HORSERADISH
See also: Horseradish Trivia
Horseradish Tree
Horseradish Tips
Horseradish is a member of the mustard family and is native to Eastern Europe, although it may have originated in Asia, Germany, or the Mediterranean area. The ancient Greeks used it, so did the Hebrews — it is one of the 5 bitter herbs of the Jewish Passover. The strong flavor of this root has an underlying sweetness and seems more like garlic than a spice.
Availability, Selection, Storage, and Preparation
Horseradish roots are available year round but are plentiful during the fall and early spring. Buy roots that are hard avoiding sprouting, greenish tinges, blemishes, and shriveling.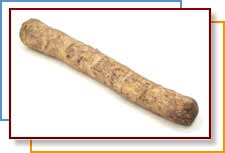 Store these roots in plastic bags and refrigerate up to a week or freeze grated root in an airtight container for several months. Scrub the root and peel the brown skin. Finely grate or food process the root.

Spice up Your 5 to 9 A Day Plan with Horseradish!
-Use horseradish as you would ground black pepper.
-Grate fresh horseradish on your vegetable side dishes, seafood, and meats.
-Stir grated horseradish into your favorite mashed root vegetables.
-Add this root to spice up your soups and stews.

Nutrition:
Serving Size 3g
Amounts Per Serving % Daily Value
Calories 5
Calories from Fat 0
Total Fat 0g 0%
Cholesterol 0mg 0%
Sodium 15mg 1%
Total Carbohydrate 1g 0%
Dietary Fiber 0g 0%
Sugars 0g
Protein 0g
Vitamin A 0%
Vitamin C 0%
Calcium 0%
Iron 0%
* Percent Daily Values are based on a 2,000 calorie diet.