CARDAMOM FIELD REPORT
See also: Exotic Cardamom; Cardamom Trivia

Spice Buyer's Journal: Destination: India
In this installment of the Spice Buyer's Journal, Al Goetze, chief spice buyer at McCormick, shares observations from his recent trip to India, where he inspected this year's cardamom crop. He invites you to join him on this latest adventure, and discover why cardamom is much more than just a pinch of flavor in holiday baking.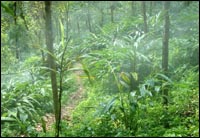 Of all of the spices, I find cardamom (Eletaria cardamomum), one of the most intriguing and impressive, with its distinctive, floral aroma and unique, clean flavor. Cardamom is used primarily in India for curry and meat dishes, adding a lovely fragrant touch to food. It is a favorite for flavoring coffee in Middle Eastern countries, and is also popular in Chinese and Latin American cooking. Here in the U.S. , cardamom is being introduced in more and more dishes.
Cardamom has a rich history, which originated in the tropical rain forests of Southern India. References to cardamom are found in Hindu scriptures dating back thousands of years. New plantings spread the cultivation to Sri Lanka and Guatemala; however India remains a major producer – and the largest consumer – of cardamom.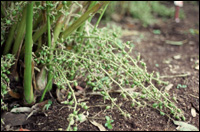 Harvest time for Indian cardamom begins in August-September, which is an ideal time to inspect the new crop. I traveled to the Southwestern Malabar coastal town of Cochin to begin my journey inland to the growing areas. Sibi, my Indian companion and local spice merchant, greeted me at the airport and informed me that we'd drive about six hours, traversing the Kerala state, to get to the growing areas in the district of Idukki. The ride through this lush, tropical farm country was fascinating! We crossed steaming flatlands with rice paddies and coconut trees as far as the eye could see. Steep, winding roads scale the Ghat Mountains, where we took in one large tea plantation after another. Eventually, the road leveled out and we reached the Western Ghat highlands, which are 3,000 to 4,000 feet above sea level. This is the center of cardamom agriculture. The plants flourish in the shade of the tropical forest canopy, which boasts cool evening temperatures and heavy annual rainfall.
The cardamom gardens are exquisite, with the plants' six- to nine-foot fan-like branches gracefully covering the forest floor. Looking closely at the base of each plant, we see multiple stems that yield the ribbed pods containing the cardamom seeds. Each pod has four to six tiny, dark seeds, which are the source of cardamom's wonderful, perfume-like aroma and taste.

Sibi explains to me that the cardamom pods are regularly inspected, by hand, over a four month period because they are harvested at two stages of maturity.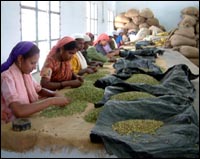 To ensure minimal loss of color and splitting, immature parrot green pods are picked just prior to them turning yellow and opening. The pods are then carefully dried in hot air chambers for 16 hours. The cuisines of India and the Middle East favor the whole, immature green pods, which represent about half the crop.

Fully ripened yellow pods contain the mature seeds, which have the highest volatile oil content and flavor. They are highly prized for use here in the States.

After a long day in the field, I was invited to stay at a nearby tea plantation, where my hosts treated me to a gourmet delight – curry lamb with fresh cardamom – a meal I will treasure always! Another dish I tried during my travels was rice pudding with cardamom pods and pistachios, an incomparable combination of flavors and textures.

I also enjoy cardamom with vegetables and chicken, and at the holidays, one of my favorite ways to use it is in pumpkin pie.

About McCormick
McCormick was founded in 1889 in Baltimore, Md. Today it is the largest spice company in the world. McCormick sources only the finest ingredients from around the globe to bring the highest quality flavors to consumers. For more information, visit McCormick online at www.mccormick.com, or call 1-800-MEAL-TIP (1-800-632-5847).