ALLIGATOR
See also Alligator Recipes
How About A Thanksgiving Gator?
Alligator is very adaptable to a variety of preparation methods. Many chefs simply grill, saute' or fry the various cuts of meat and serve it as part of a main entree. Restaurants frequently serve alligator as an appetizer. Producers and processors in the alligator business are also pursuing more value-added products like sausage and ground patties.

Alligator meat is finding a growing niche. Over 30 percent of all the alligator producers' income in Florida comes from the sale of the meat. To further spur sales, the industry is increasing its efforts to educate consumers and restaurants about the attributes of the meat. When compared to other meats, such as beef, chicken and fish, alligator is low in fat and calories and high in protein.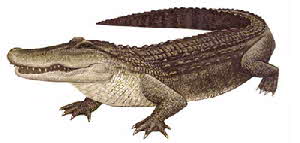 ALLIGATOR ATTRIBUTES
The white meat has a fine, light-grained texture that many people compare favorably to pork and chicken.

BUYING, STORAGE AND HANDLING
Remember to purchase seafood last and keep it cold during the trip home.

Frozen:
Alligator is usually purchased frozen. Alligator meat is sold frozen as a bone-in, deboned, or deboned and tenderized product. Handle the meat as you would any other frozen product; mark the package with the date you purchased it and make sure it is tightly wrapped to prevent freezer burn. Thaw the meat in the refrigerator and use promptly. Do not re-freeze once thawed.

Fresh:
Remove all excess fat on the outside of the cut and between the meat layers. For extra tenderness, use a meat mallet or a cuber and then cut across the grain of the meat to yield meal-sized portions. For freezer storage, wrap tightly with cellophane and freezer paper to prevent freezer burn for up to four months.
PREPARATION
• Keep raw and cooked seafood separate to prevent bacterial cross-contamination.
• After handling raw seafood thoroughly wash knives, cutting surfaces, sponges and your hands with hot soapy water.
• Always marinate seafood in the refrigerator.
• Discard marinade; it contains raw juices which may harbor bacteria.
• When marinade is needed for basting reserve a portion before adding raw seafood.

COOKING
Alligator has its own unique flavor that is easily enhanced with seasonings and sauces. Many of your favorite recipes for veal, chicken and seafood can be successfully prepared with alligator.
NUTRITION
Nutritional values for approximately 4 ounces (114 grams) of raw, edible portions
Calories 110
Calories From Fat 20
Total Fat 2 g
Saturated Fat .5 g
Cholesterol 55 mg
Sodium 55 mg
Total Carbohydrates 0 g
Protein 24 g
American alligator, the source of legal alligator products sold in the United States, has been removed from the endangered species list for over 10 years. Not so long ago the sale of alligator leather was banned in response to the alligator's status as an endangered species. But that has changed due to the alligator industry's conscientious effort in preservation programs that protect the wild alligator in its natural habitat. Now when consumers select alligator products, they are making an investment in preserving the American alligator as a viable natural resource.

The increased abundance of American alligator products is not by accident, but is due to the conscientious conservation efforts on the part of the producers and the agencies that monitor the harvest.
Florida Department of Agriculture and Consumer Services www.fl-seafood.com