MANCHEGO CHEESE
See also: Spanish Cheeses; Manchego Trivia
Recipes: Fennel Salad with Manchego; Poblano Polento with Manchego
Spain's cheese claim to fame
A spectacular cheese that makes for an array of delicious recipes is Manchego from Spain. This popular cheese is light and flavorful, perfect for dressing up a salad, or a burger and melts beautifully in heated dishes or over toasted bread. Manchego is also great as a snack cheese served with fruit and Serrano Ham.

(Recipe: Melon, Serrano & Arugula Salad with Manchego)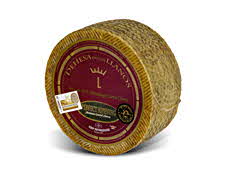 Manchego is Spain's cheese claim to fame, made from 100% sheep's milk. The name of the cheese comes from the Spanish region "La Mancha," also home of literary giant Don Quixote. "La Mancha" means "no water," which contributes to the extreme weather conditions and sparse grass that is loaded in nutrients. The wild herbs that fill Spain's rocky, dry countryside make Manchego very distinct in taste and aroma. The flavor is full of zest, with a firm yet moist texture. Manchego can be aged from three months to a year, with a range of flavors depending on the aging. Manchego is ivory colored and has many holes in it, with a distinctive taste that lingers on the palate.

Don Juan's Three-Month Manchego is made with pasteurized sheep's milk from La Mancha, in the heart of Central Spain. The cheese is prepared by an ancient recipe, made only from Manchega sheep. Don Juan's Three-Month Manchego is a light green color, covered with a green label. It has a floral scent and nutty flavor. The texture is smooth, with herringbone prints on the rind, to look just like the olden days when cheese curds were pressed with a straw cheese belt.

Another important producer of this popular cheese is Dehesa de los Llanos. While Manchego typically appears in 3 month, 6 month and 12 month offerings, Dehesa de los Llanos has created the Perfect Ripening, in which the Manchego is aged to perfection in eight to eleven months. The 6,500 Manchega sheep that create the milk for the Dehesa cheese live on the largest ranch in Castilla La Mancha, and the company prides themselves on excellent quality control and pure milk. The Perfect Ripening is extremely artisinal, with a natural, edible rind.

Not only succulent on a cheese plate, Manchego can be paired with anchovies, fruit and wine, or it can be featured in any number of recipes for summertime snacking!