Thanksgiving Away From Home
When you think about Thanksgiving, it generally conjures up pictures of home. Family gathered in the kitchen to sneak just a little turkey as it sits and rests in its roaster. Grandma bringing her famous chocolate pie, and the happy bedlam of timing everything to arrive on the table just right.

We've certainly had our share of those kinds of Thanksgiving. There have been times when tables stretched through the living room, the downstairs family room, and the kitchen just to accommodate the crowd of extra students, family members and friends. Memories of the hard work fade, while memories of the creamy mashed potatoes, yummy sweet potato casserole, and perfect turkey (which grows bigger with every recollection) never dim.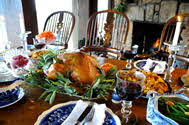 We've also had our Thanksgivings when we traveled to other homes, and even a few restaurant Thanksgivings. One of our fondest memories is the year we were expecting our first child and the doctor had advised no travel. We were hours away from the nearest family, and the idea of lifting a turkey in and out of an oven with baby weight in the way was, well, unappealing.

So, we headed for one of the few restaurants open that day. Whereas I expected it to be sad – with people who had no families, or, like us, couldn't make the trip – instead we found ourselves amidst a crowd of happy people who loved the idea of being served. As several confided to me, after decades of cooking large meals on the holiday, they had "wised up" and were delighted to go out.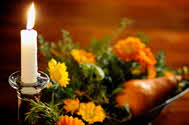 The restaurant, although elegant, evolved into a family atmosphere where people shared their stories and asked about the impeding birth. There are times now, especially when I'm in the midst of peeling potatoes or making yet another casserole, that I think wistfully of a restaurant Thanksgiving.

This year, actually, we'll come close. Our son has moved several hours away and can't make the trip home, so we're packing up and taking the holiday to him. We'll be doing a take out turkey and trimmings from a local restaurant, plus a few extras from Mom's kitchen to round it all out. I envision us sitting around his second hand table in his second floor apartment, enjoying the company and conversation.

And I think, since I'm going to be the guest, I might be the one taking a nap while he and his sister clean up.

Articles & Photos courtesy of www.FoodChannel.com