WHY THANKSGIVING IS MY FAVORITE HOLIDAY
by A food and family-loving Turkey Day Nerd
I think what I like best about Thanksgiving is its inherent simplicity. You gather together family and/or friends to share a meal and to consider all that we have to be thankful for in our lives. That's pretty much it.

No one's expecting shiny wrapped presents. Nobody's likely to blow a finger off with a firecracker or step on a well-hidden hard boiled egg. No one's expected to put on a silly costume or sing Monster Mash. (Although I do LOVE that song!) Nor are we expected to sing carols on this particular holiday.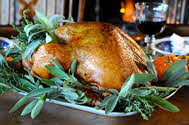 Thanksgiving has a nice nondenominational feel to it. You don't have to be member of any certain religious faith to celebrate it. Just have enough humility to give thanks for what we've been given.

I love the intoxicating aromas of Thanksgiving. The turkey roasting in the oven, the pumpkin pie baking. The smell of cloves and cinnamon. A crackling fire in the fireplace.

A few years ago I was at one of those team-building retreats. This place had platforms up in tall trees, with ropes and things to climb through. I think we were supposed to be learning teamwork. They had a zipline that I guess had something to do with instilling trust or courage. Anyway, we had to complete a questionnaire and one of the questions was "What's your favorite holiday?" One of the leaders of this camp basically told us if you said Thanksgiving you were kind of an anal retentive nerd. Well, he can go suck on a sour cranberry as far as I'm concerned. I love Thanksgiving.
This Thanksgiving, many of us, when we stop to think about all we have to be thankful for, may be thinking, well, that we have a little bit less this year…our home value may have dropped, our retirement portfolio may have shrunk. But when we look around the table at our loved ones, I'm betting that most of us will be thinking we still have so much for which to be thankful.

I guess most of all, for me, Thanksgiving is about coming home. Families traveling miles just to be together and break a little bread…and turkey, and dressing, and cranberries, and mashed potatoes, and gravy.

Hmmm. Maybe I am a nerd. A food and family-loving Turkey Day Nerd. Whatever.
Article & Photo courtesy of www.FoodChannel.com