OVEN ROASTED TOFU AND VEGETABLES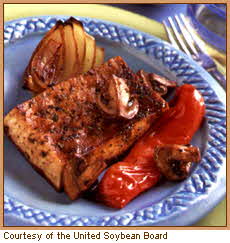 vegetarian
Makes 4 servings.
INGREDIENTS
• 16 ounces extra firm tofu, drained
• 3 tablespoons balsamic vinegar
• 2 teaspoons vegetable oil
• 2 tablespoons sugar
• 1 clove garlic, minced
• 1/2 teaspoon each dried oregano, crushed, and salt
• 1 sweet red pepper, quartered
• 1 medium onion, quartered
• 3 medium mushrooms, quartered
• Chopped parsley for garnish

DIRECTIONS
Cut tofu in half vertically then horizontally.

Drain on several layers of paper towels to remove as much liquid as possible.

If desired, score surfaces to allow more marinade to penetrate tofu.

Combine vinegar, oil, sugar, garlic, oregano and salt; mix well.

Place tofu and vegetables in a shallow baking pan leaving enough space between the pieces for even roasting; brush with vinegar mixture.

Let stand 30 minutes, brush again and let stand 30 minutes longer.

Bake tofu, pepper and onion at 500 F 30 to 35 minutes

Turn once halfway through baking time.

Add mushrooms during last half of roasting time.

Transfer to platter and sprinkle with parsley.

Nutritional Analysis Per Serving:
38 Cal., 9.5 g pro., 15.5 g carb., 4.6 g fat, (29% Cal. from fat), 0.5 g sat. fat, 0 mg chol., 1.3 g fiber, 367 mg sodium, 8.4 g pro. from soy, 2.2 g fat from soy.
This recipe meet the requirements of the FDA's health claim on soy protein, which states "25 grams of soy protein a day, as part of a diet low in saturated fat and cholesterol, may reduce the risk of heart disease." Foods that meet the health claim must contain 6.25 grams of soy protein and be low in fat, saturated fat and cholesterol.

Recipe and photo courtesy of the United Soybean Board
vegetarian recipes