CHINESE BARBECUED TOFU WITH SESAME NOODLES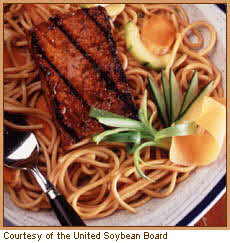 ( vegetarian )
INGREDIENTS
Marinade:
• Soy sauce, regular or lite ¾ cup
• Hoi sin sauce ¾ cup
• Oyster sauce 6 tablespoons
• Sherry wine or beer 6 tablespoons
• Brown sugar, firmly packed 3 tablespoons
• Garlic, crushed 9 cloves
• Five spice seasoning 1 - ½ teaspoon

• Tofu, firm or extra firm 11 pounds
• Soy oil As needed

Sesame Noodles:
• Chinese egg noodles 2 pounds
• Water as needed
• Soy sauce, regular or lite 1 cup + 2 tablespoons
• Sesame oil 6 tablespoons
• Granulated sugar 2 tablespoons
• Carrots, bias cut 1½ pounds
• Green onion tops, chopped 18
• Cucumbers, peeled and seeded 8

Garnishes: green onion brushes, carrot curls, Cucumber fans as needed

METHOD
Combine soy sauce, hoi sin sauce, oyster sauce, sherry or beer, brown sugar, garlic and five spice for marinade. Set aside.

Slice each 10-ounce brick of tofu into eight ½ -inch portions. Dry thoroughly between several layers of paper towels.

Heat a non-stick skillet and brown tofu on both sides using a small amount of oil. Remove from skillet.
Cool slightly.

Cover with Chinese Barbecue Sauce and marinate 30 minutes to 2 hours.

Charbroil tofu over hot coals until browned on both sides. Baste tofu several times.

Cook egg noodles in simmering water 2 to 4 minutes or to al dente state. Drain and cold shock to stop cooking. Drain well.

Season with soy sauce, sugar and sesame oil.
Toss with assorted vegetables.

Serve noodles at room temperature with barbecued tofu.

Garnish with onion brushes, carrot curls and cucumber fans, if desired.

Recipe & photo courtesy of the United Soybean Board
vegetarian recipes