CITRUS FRUIT
Oranges do not ripen after they are picked, but lemons do.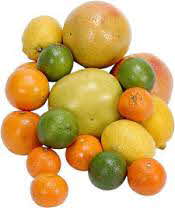 Zest is the colored outermost skin layer of citrus fruits. Zest is highly perfumed and is rich in flavonoids, bioflavonoids, and limonoids.

Zest can be used to flavor sweet and savory dishes, or candied, for pastry use. Be sure not to get any of the white pith when zesting citrus, as the white pith is bitter.

For a great natural facial, boil the peels of an orange and grapefruit with 2 cups of non-carbonated mineral water. Strain the liquid into a bottle and apply to face twice daily. Keep refrigerated.
For a refreshing skin bracer, blend the juice of half a grapefruit with warm water. Splash it on a just washed face to tighten pores.
For rough, red elbows, dip and rub elbows into grapefruit halves. This will soften elbows in only a few days.
For softer cuticles and whiter nails, mix 3 cups of warm water with the juice of half a grapefruit. Soak fingers for 5 minutes. Repeat weekly.
Florida Citrus Cookbook (1985), Florida Dept. of Citrus