See also: Celery Facts & Trivia
CELERY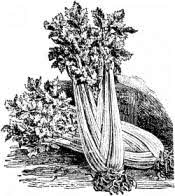 One medium bunch = about 2 pounds.
1 cup sliced or chopped = 2 medium stalks.

Celery should be stored at 35 degrees F at very high humidity.

When buying celery look for freshness and crispness. The stalks should have a solid rigid feel, and the leaflets should be mostly green, fresh or only slightly wilted. Also look for stalks with a glossy surface and light green or medium green color.

AVOID: Wilted with flabby upper brances or leaf stems. Also avoid stalks with pithy, hollow or discolored centers; brown or black discoloration of the small center branches; long, thick seedstem in place of the usually small, tender heart stems.

Celery should be refrigerated in a plastic bag and placed in the crisper for up to two weeks. If the ribs are wilted, separate the ribs and place them in a bowl of ice water for several minutes before use.

Separate celery ribs and rinse thoroughly as dirt is often lodged between the ribs. To serve raw or in cooked dishes, simply cut to desire length.