OPEN FACE CUBAN SANDWICHES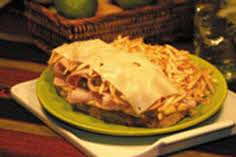 Potato Sticks add a crunchy twist to this Cuban-inspired sandwich.
Makes 4 servings
Prep Time: 10 min.
Cook Time: 5 min.

Ingredients
• 4 tbsp. French's® Classic Yellow® Mustard
• 4 thick slices, rustic white bread, toasted
• 6 oz. thinly sliced ham
• 6 oz. thinly sliced deli-roast pork
• 4 tbsp. sweet pickle relish
• 4 oz. thinly sliced Swiss or Muenster cheese
• 1 cup French's® Potato Sticks

Directions
1. HEAT oven to 350°F. Spread mustard evenly on bread slices. Layer with ham and pork, dividing evenly. Spread relish evenly over meat layers. Top each portion with 1/4 cup potato sticks and 1 slice of cheese.

2. PLACE sandwiches on baking sheet. Heat in oven 5 min. or until cheese is melted and sandwich is heated through.

Nutritional Analysis Per Serving: 413 Calories, 19 g Fat, 10 g Saturated Fat, 91 mg Cholesterol, 1142 mg Sodium, 30 g Carbohydrates, 3 g Fiber, 32 g Protein.
Recipe courtesy of French's Foods