NUTTY BREAKFAST PARFAIT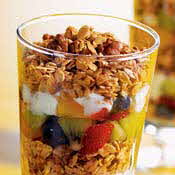 Today's busy lifestyle demands quick and easy meal solution. But you shouldn't sacrifice great taste and nutrition for convenience. Here's a breakfast recipe that taste good and is good for you too. You can prepare the granola ahead of time and then simply add the yogurt and fresh fruit when you're ready to eat.
Prep Time: 30 min
Servings: 6

Ingredients:
• 1½ cups old fashioned rolled oats
• 1/2 cup California walnuts, coarsely chopped
• 1/3 cup pure maple syrup, divided
• 2 teaspoon butter
• 2 cups sliced hulled strawberries
• 2 cups thinly sliced peeled peaches (about 4 medium)
• 1 cup blueberries
• 1 cup cubed peeled kiwi fruit (about 3)
• 2 cups non fat plain yogurt

Directions:
1. Mix oats and walnuts in 13 x 9 inch baking pan.

2. Combine ¼ cup of the maple syrup and butter in small heavy saucepan. Bring to boil.

3. Pour maple syrup mixture over oat mixture; stir to blend well.
Bake 10 minutes at 375 F, stirring occasionally. Continue to bake until mixture is golden and crisp, stirring occasionally, about 8 minutes longer.
Cool granola completely in pan. (Can be prepared 1 week ahead.
Store in airtight container at room temperature).

4. Gently toss strawberries, kiwifruit and remaining maple syrup in large bowl to blend.

5. Divide half of the fruit mixture among 6 parfait or wine glasses.
Sprinkle each parfait with half the granola mixture, dividing equally.
Top each with half the yogurt. Repeat layers.
Serve immediately.
Recipe courtesy of California Walnut Board