MANHATTAN MAPLE COCKTAIL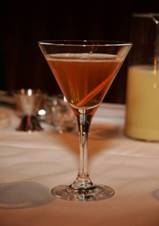 Newly created, the Manhattan Maple features the unexpected but delectable maple syrup as a key component. The end result is a cocktail that is infused with a smooth, earthy taste and combines well with B&B.
Made with Otard Cognac and Bénédictine, B&B recently celebrated its 70th anniversary at the place of its invention, New York City's 21 Club. The Manhattan Maple was developed by Portland, Maine bartender John Myers, and was named the official B&B 70th anniversary cocktail by a panel of spirit experts. Complex and unique, Myers's creative concoction balances B&B and dark rum with the sweetness of maple syrup along with dry vermouth and lime.

MANHATTAN MAPLE

• 1 ounce B&B
• 1 ounce Bacardi 8 Rum
• 1 ounce Noilly Pratt Dry Vermouth
• 1/2 ounce pure maple syrup
• 1/2 ounce fresh lime juice


Shake all ingredients and strain into a Martini glass. Garnish with a cinnamon stick.


B&B was concocted when a "21 Club" barman artfully combined the two liqueurs, Bénédictine and Brandy, in the 1930s. While known initially as the "Bénédictine and Brandy" cocktail, the name was shortened to B&B and bottled and distributed as its own brand in 1937. Today, B&B continues to be a favorite among mixologists— it recently received 4-out-of-5 stars from Spirit Journal.
Today, B&B is considered one of the most versatile liqueurs and a key ingredient in contemporary and traditional cocktails. It can be served neat, on the rocks or mixed in a variety of cocktails.