INDIAN POTATO SPRING ROLLS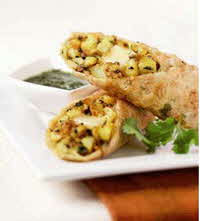 Yield: 24 servings
Ingredients
• 3 lbs & 12 oz Yellow potatoes, peeled and cut into 3/4-inch dice
• 6 tablespoons Canola oil
• 1 tablespoon Cumin seed
• 1 tablespoon Black mustard seed
• 1/2 teaspoon Asafetida
• 3 tablespoons Minced garlic
• 2 tablespoons Ground coriander
• 2 tablespoons Paprika
• 1 tablespoon Salt
• 1 tablespoon Turmeric
• 3/4 teaspoon Cayenne pepper
• 2 tablespoons Chopped cilantro
• 24 Egg roll wrappers, 8-inch square
• 6 ounces Paneer or queso fresco, cut into 1/4- x 1/2- x 2-inch batons
• 3 Eggs, beaten

Cilantro Chutney:
Yield: 1½ cups
Ingredients
• 7½ cups Cilantro leaves, loosely packed
• 6 each Serrano chiles, stemmed and seeded
• 6 tablespoons Lime juice
• 6 tablespoons Water
• 3/4 teaspoon Cumin seed
• 3/4 teaspoon Salt
• Canola oil, as needed

Directions
1. In large pot, cover potatoes with water. Bring to a boil, reduce heat and simmer about 10 minutes or until just barely tender.

2. In large sauté pan, heat oil over medium heat. Add cumin seed, mustard seed and asafetida. When mustard seeds start to pop, add potatoes; stir until coated with oil and spices. Add garlic, coriander, paprika, salt, turmeric and cayenne. Cook, stirring occasionally, about 10 minutes, mashing potatoes with spoon or spatula until chunky. Stir in cilantro.

3. Place about 3 tablespoons potato mixture in center of 1 egg roll wrapper. Flatten slightly and top with 1 baton of paneer. Fold up bottom edge of wrapper to enclose potato mixture and paneer. Brush top of wrapper with egg, fold in sides and roll up tightly to form spring roll Repeat with remaining ingredients to make 24 spring rolls. Refrigerate, covered.

4. Cilantro Chutney: In blender or food processor, pulse all ingredients until roughly puréed. Refrigerate, covered.

5. For each serving, to order: Deep-fry 1 Indian Potato Spring Roll in hot (350°F) oil about 2 minutes or until golden brown and crisp. Cut in half diagonally serve with 1 tablespoon Cilantro Chutney.

Nutrition Information Per Serving:
229 calories; 8 g fat; 32 mg cholesterol; 398 mg sodium; 34 g carbohydrate; 3 g fiber; 7 g protein

Wisconsin Potato & Vegetable Growers Association
www.wisconsinpotatoes.com
Recipe provided by the United States Potato Board www.healthypotato.com