GREEK GARDEN RICE SALAD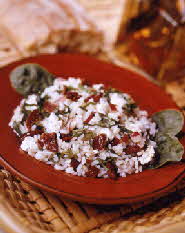 "Rice to the Rescue!" Recipe Contest Winner - Sharyn Hill
Yield: Makes 6 servings.

Ingredients
• 1/2 cup sun-dried tomatoes (oil packed), chopped
• 3 tablespoons oil from jar of sun-dried tomatoes
• 3 cups medium grain cooked rice
• 1 small red onion, chopped
• 1/2 cup drained, pitted and halved Kalamata olives
• 2 (4-ounce) packages crumbled Feta cheese with garlic and herbs
• 1/4 teaspoon salt
• 1/4 teaspoon ground black pepper
• 1/2 (6 ounce) package baby spinach leaves, thinly sliced

Directions
Combine sun-dried tomatoes, oil and rice.

Stir in onion, olives, cheese, salt and pepper.

Add spinach and toss gently to combine.

Nutrition Facts
Calories 294
Total Fat 16g
Cholesterol 33mg
Sodium 928mg
Total Carbohydrate 29g
Dietary Fiber 3g
Protein 9g

USA Rice Federation (www.usarice.com)