GREEK RICE SALAD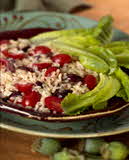 IACP "5 Ingredient Challenge" recipe contest winner & best whole grain rice recipe winner- Susan Zubik
Yield: Makes 6 to 8 servings.

Ingredients
• 3 cups cooked medium grain brown rice
• 1 cup red grape tomatoes; sliced in half
• 1/3 cup pitted Kalamata olives, sliced
• 1/4 cup Feta vinaigrette dressing
• Salt and freshly-ground pepper to taste
• Romaine leaves

Directions
Combine rice, tomato halves, olives and vinaigrette in a large mixing bowl.

Season with salt and pepper.

Serve with whole Romaine leaves, which can be used like taco shells to hold filling.

Alternatively, arrange Romaine leaves on a platter and place rice mixture on top of greens.

Chill.

Nutrition Facts
Serving Size 6
Amount Per Serving
Calories 200
Total Fat 10g
Cholesterol 2mg
Sodium 248mg
Total Carbohydrate 24g
Dietary Fiber 2g
Protein 3g
USA Rice Federation (www.usarice.com)