QUINOA FACTS & TRIVIA
The United Nations General Assembly declared 2013 as the 'International Year of Quinoa', in recognition of ancestral practices of the Andean people, who have managed to preserve quinoa in its natural state as food for present and future generations, through ancestral practices of living in harmony with nature.
Quinoa (KEEN-wa), a member of the goosefoot family native to the Andes. A sacred staple of the ancient Incan empire (they called it the 'mother grain'), quinoa is a nutritional powerhouse, providing eight of the essential amino acids, assorted B vitamins, vitamin A, phosphorus, iron and calcium.

A botanical fruit of an herb plant, quinoa (Chenopodium quinoa) is not a true grain. Therefore, it is ideal for people who are allergic to the gluten in wheat.

One cup has more calcium and protein than a quart of milk. Ounce for ounce it has as much protein as meat, contains all of the essential amino acids, and has high amounts of iron and calcium. All in all, it comes closer than any other food in supplying all of the nutrients needed for life.
See also: Quinoa Cooking Tip
While quinoa originated from the Andes of Bolivia and Peru, U.S. farmers harvest more than 200,000 pounds of it each year in the Rocky Mountains. It has the whitest and the sweetest tasting if grown above 12,500 feet. Quinoa can be produced at lower elevations, but tends to be more bittersweet in taste.
Wheat Foods Council www.wheatfoods.org
Over the years, Quinoa's popularity has grown worldwide and today it is commonly known as one of the world's most popular "superfoods."
In celebration of the 'International Year of Quinoa', Inkaterra*, Peru's leader in sustainable tourism and conservation, is sharing a recipe for one of the hotel's most popular breakfast dishes, Quinoa Pancakes.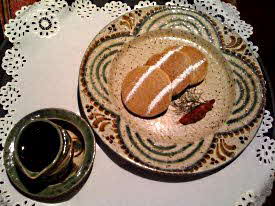 The Quinoa Pancakes, among other quinoa-based dishes served at Inkaterra properties, are prepared using traditional Peruvian ingredients and techniques, and the quinoa is purchased locally from Andean farmers as part of Inkaterra's commitment to sustainable and social actions. A delicious and healthy breakfast dish, it's the ideal meal before a day of hiking up to Machu Picchu, exploring the many wonders of Cusco or trekking through the Peruvian Amazon.
QUINOA PANCAKES
INGREDIENTS:
• 1½ cups of flour
• 2 eggs
• 5 tablespoons sugar
• Pinch of salt
• ¼ teaspoon vanilla extract
• ¼ teaspoon Pisco or brandy
• Approximately ½ cup milk
• 5 tablespoons previously cooked quinoa
• 1½ tablespoons unsalted butter, melted
• 2 teaspoons baking powder
PREPARATION:
• Mix together the eggs, sugar, salt, vanilla extract, Pisco, milk and the melted butter.
• Mix the flour and the baking powder separately and then add slowly to the wet mixture until it becomes soft.
• Add the previously cooked quinoa, and add milk if the mixture is too dry.
• Ladle the batter into a non-stick frying pan to form individual pancakes, and cook until golden brown on both sides.
• Serve with maple syrup or honey.
• Provecho!
* For more information about dining at Inkaterra Machu Picchu Pueblo Hotel and other Inkaterra properties, please visit: www.inkaterra.com

Please feel free to link to any pages of FoodReference.com from your website.
For permission to use any of this content please E-mail: [email protected]
All contents are copyright © 1990 - 2022 James T. Ehler and www.FoodReference.com unless otherwise noted.
All rights reserved. You may copy and use portions of this website for non-commercial, personal use only.
Any other use of these materials without prior written authorization is not very nice and violates the copyright.
Please take the time to request permission.


FOOD TRIVIA and FOOD FACTS
FoodReference.com (since 1999)
FOOD TRIVIA and FOOD FACTS SECTION