SEE ALSO: Rabbit Recipes
RABBIT Facts and Trivia
An old name for the rabbit is coney or cony, derived from the Old French conis, from the Latin cuniculus.
The expression 'rabbit food' refering to lettuce, was first recorded in the 1930s.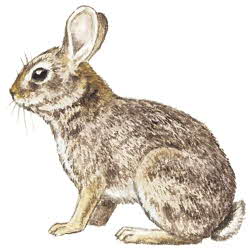 Farm-raised rabbit has a lean flesh with an ivory color, relatively tender texture and mild, delicate flavor. Average market weight for a young rabbit is 2.2 lb. (1 kg), and for a mature rabbit it is 3-5 lb.
Rabbit is a great alternative to chicken – more tender, with more flavor, lean and virtually fat-free. It can be substituted for chicken in most recipes. Cut-up rabbit can be floured and fried just like chicken, braised in wine; or marinated then stewed, as for Hasenpfeffer.
The ancient Romans captured wild rabbits, kept them in cages and fattened them for the table.
Rabbit was a favorite of of French monks, because they considered them fish and could eat them when abstinence from meat was called for.
The movie 'Who Framed Roger Rabbit?' premiered in U.S. theatres in June 1988. It blended carton characters and live actors. A milestone in animation history, one of the top-grossing films of the year, it received four Academy Awards.

FOOD TRIVIA and FOOD FACTS
Please feel free to link to any pages of FoodReference.com from your website.
For permission to use any of this content please E-mail: [email protected]
All contents are copyright © 1990 - 2023 James T. Ehler and www.FoodReference.com unless otherwise noted.
All rights reserved. You may copy and use portions of this website for non-commercial, personal use only.
Any other use of these materials without prior written authorization is not very nice and violates the copyright.
Please take the time to request permission.


FoodReference.com (since 1999)
FOOD TRIVIA and FOOD FACTS SECTION