LYCHEE, LITCHI, LICHEE
The Litchi (Litchi chinensis) a member of the Sapindaceae family, which includes the Akee, Longan and Soapberry tree, is native to the low elevations of southern China, where it has been cultivated for over 2,000 years.

It is now cultivated throughout most southern Asiatic countries, including India, Vietnam, Malaysia and the Philippines; they have been grown in the Caribbean since the 18th century, and were introduced to Hawaii, Florida and California in the late 19th century.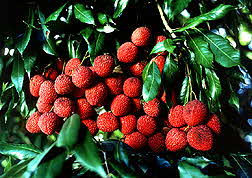 The fruit, commonly called a litchi nut, are about 1 to 1 1/2 inches in diameter when fresh, and have a red brittle shell, with white translucent flesh and a single large seed.

Litchi are eaten fresh or dried, and are also available canned in syrup. The flesh is fragrant and sticky, sweet and juicy; the dried fruit has a smoky taste somewhat like a raisin.

A versatile fruit, they are excellent in fruit salads, sweet and sour sauces, and dessert sauce. They may be used in stir fries, salads, poultry dishes, and even served over ice cream.

Please feel free to link to any pages of FoodReference.com from your website.
For permission to use any of this content please E-mail: [email protected]
All contents are copyright © 1990 - 2023 James T. Ehler and www.FoodReference.com unless otherwise noted.
All rights reserved. You may copy and use portions of this website for non-commercial, personal use only.
Any other use of these materials without prior written authorization is not very nice and violates the copyright.
Please take the time to request permission.


FOOD TRIVIA and FOOD FACTS
FoodReference.com (since 1999)
FOOD TRIVIA and FOOD FACTS SECTION