LONGHORN, TEXAS LONGHORN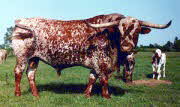 The Texas Longhorn is a truly 'American' breed of cattle. What makes the Longhorn different than other breeds is that the breed developed naturally from the first cattle that were brought to this country 500 years ago. Natural selection and adaptation to the environment are the forces that shaped the development of the Longhorn.

They reached their high point in the middle of the 19th century, but by the beginning of the 20th century, they were almost gone, due to fenced in range and new crossbreeding efforts to improve the quality of American beef.

Due to changes in the economics of the cattle industry, there is new interest in the Longhorn and its characteristics of high fertility, easy calving, disease resistance and its ability to thrive on marginal range lands.
The Longhorn (Bos taurus) was designated as the Official Large Mammal of Texas in 1995.

The Texas Parks and Wildlife's Foundation Herd was designated as the Official Longhorn Herd of Texas in 1969.

FOOD TRIVIA and FOOD FACTS
Please feel free to link to any pages of FoodReference.com from your website.
For permission to use any of this content please E-mail: [email protected]
All contents are copyright © 1990 - 2023 James T. Ehler and www.FoodReference.com unless otherwise noted.
All rights reserved. You may copy and use portions of this website for non-commercial, personal use only.
Any other use of these materials without prior written authorization is not very nice and violates the copyright.
Please take the time to request permission.


FoodReference.com (since 1999)
FOOD TRIVIA and FOOD FACTS SECTION