See also: Codfish Recipes --- Codfish: British Gold
COD FISH, CODFISH TRIVIA
Norwegian scientists attract young cod to feeding sites by playing recordings of tuba music underwater.
The Portuguese claim to have 365 ways of preparing dried salt cod (bacalhau) one for each day of the year.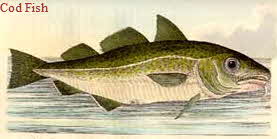 About 10% of the world fish catch is cod.
There are 13 people in the U.S. listed on whitepages.com with the last name 'Cod'
(Mark Morton, 'Gastronomica', Fall 2010)
The official state fish of Massachusetts is the Cod fish. It has been a symbol of the Commonwealth for more than 200 years.
Cod fish was so important for Massachusetts that on March 17, 1784, according to the Journal of the Massachusetts House of Representatives: "Mr. John Rowe moved the House that leave might be given to hang up the representation of a Cod Fish in the room where the House sit, as a memorial of the importance of the Cod Fishery to the welfare of this Commonwealth."
It is still kept in the present House chamber.
Codfish live to an average of 15 years or so, with a record of 27 years old from the 1960s. You can tell a cod's age from the two white earstones in the skull (otoliths), which have annual growth rings. You really can not tell the age from their weight, as the rate of growth will vary, depending on the water temperature, population size, food, etc.

Please feel free to link to any pages of FoodReference.com from your website.
For permission to use any of this content please E-mail: [email protected]
All contents are copyright © 1990 - 2023 James T. Ehler and www.FoodReference.com unless otherwise noted.
All rights reserved. You may copy and use portions of this website for non-commercial, personal use only.
Any other use of these materials without prior written authorization is not very nice and violates the copyright.
Please take the time to request permission.
FOOD TRIVIA and FOOD FACTS
CULINARY SCHOOLS
& COOKING CLASSES
From Amateur & Basic Cooking Classes to Professional Chef Training & Degrees
FoodReference.com (since 1999)
FOOD TRIVIA and FOOD FACTS SECTION