NONI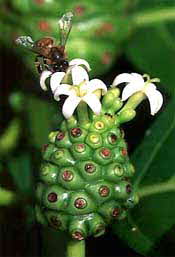 Noni or Indian Mulberry (Morinda citrofolia) is a small evergreen. The fruit of the noni resembles breadfruit only smaller, and is used throughout Southeast Asia and the South Pacific.

The aroma of the fruit has been described as 'disgusting' or worse, and its flavor also fits that description.

It is a traditional medicinal plant, and lately various noni juice products have become popular around the world.

Several countries have banned its importation, and many others have curbed marketing efforts due to fantastic health claims.

FOOD TRIVIA and FOOD FACTS
Please feel free to link to any pages of FoodReference.com from your website.
For permission to use any of this content please E-mail: [email protected]
All contents are copyright © 1990 - 2023 James T. Ehler and www.FoodReference.com unless otherwise noted.
All rights reserved. You may copy and use portions of this website for non-commercial, personal use only.
Any other use of these materials without prior written authorization is not very nice and violates the copyright.
Please take the time to request permission.


FoodReference.com (since 1999)
FOOD TRIVIA and FOOD FACTS SECTION