Chocolate Avocado Pistachio Cake with California Avocado Crème Anglaise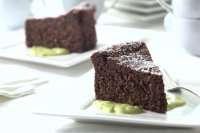 Serves 8
Ingredients
• 6 oz. pistachios, shelled
• 7 oz. bittersweet chocolate, finely chopped in food processor
• 6 oz. unsalted butter, cut into 1-inch pieces
• 1 cup sugar, divided
• 1 Tbsp. flour
• 4 eggs, separated
• 2 ripe, fresh California avocados, peeled, seeded and diced
• 1 tsp. vanilla extract
• 1/8 tsp. cream of tartar
• Powdered sugar
• Crème Anglaise (see make-ahead recipe below)
Instructions
1. Preheat oven to 300oF. Arrange pistachios on a baking sheet and place in oven for about 15 minutes to toast the nuts until they are dry and aromatic. Stir the pistachios occasionally, being careful not to allow them to brown; cool completely. Finely grind nuts in the food processor with 1/4 cup sugar and the flour, pulsing on/off, until the consistency of fine meal.

2. Increase oven heat to 350oF. Butter an 8-inch springform pan, line with parchment paper, then turn paper over.

3. Combine chocolate and butter in a bowl and microwave on medium power for 2 1/2 minutes. Stir until smooth.

4. Beat egg yolks with the whisk attachment in the bowl of an electric mixer on medium speed. Gradually add 1/2 cup sugar and continue beating until yolks are very thick. Add the avocados to the mixer, increase speed and beat until smooth. Reduce speed to low and gradually stir in the vanilla and chocolate and nut mixtures.

5. In a medium bowl, beat the egg whites with cream of tartar on medium speed until soft peaks form. Add 1/4 cup sugar, 1 tablespoon at a time, and continue beating until stiff, but not dry. Gently fold the beaten whites into the yolk mixture (yolk mixture will be very thick). Fold the yolk mixture back into the remaining whites. Pour into the prepared pan. Tap the pan on the work surface and smooth top with a spatula to level. Bake about 40 minutes or until a toothpick inserted into the center comes out almost clean. Allow the cake to cool in pan.

6. Remove sides of the springform pan and using a long spatula, slide the cake off the paper onto the serving plate. Sprinkle with powdered sugar. Ladle Crème Anglaise into the center of each dessert plate, place a wedge of cake in the center of the plate and serve immediately.
CALIFORNIA AVOCADO CRÈME ANGLAISE
Do-Ahead: The sauce can be completely prepared a day or so before serving.
Ingredients
• 1 ripe, fresh California avocado, seeded, peeled & scooped out
• 1 cup milk
• 1/4 cup sugar
• 3 egg yolks, room temperature
• 1 tsp. vanilla extract
Instructions
1. Place the avocado in a food processor, pulsing on/off, until coarsely chopped.

2. Mix milk and sugar together in a small heavy saucepan and bring just to a boil over medium heat.

3. Whisk egg yolks together just to blend in a medium bowl.

4. Whisk scalded milk into the yolks, a drop at a time and return the mixture to the saucepan. Stir over medium-low heat with a spatula until the sauce thickens. Do not allow the mixture to simmer or boil at anytime or it will curdle. Add the mixture to the avocado in the food processor and process, stopping to scrape down the sides of the container, until completely puréed. Cover and refrigerate until 30 minutes before serving.
About the California Avocado Commission
Created in 1978, the California Avocado Commission strives to increase demand for California avocados through advertising, promotion and public relations, and engages in related industry activities that benefit the state's 6,000 avocado growers. The California Avocado Commission serves as the official information source for California avocados and the California avocado industry. For information about California avocados, visit CaliforniaAvocado.com