Portland-based Bob's Red Mill Claims Title of World's Best Oats
Bob's Red Mill Wins World Porridge Making Champion 2009 Title And Takes Home Coveted Golden Spurtle Trophy
October, 2009 – Carrying the culinary hopes of the USA on his shoulders, American Matthew Cox from Bob's Red Mill Natural Foods has done what no American has done before – he has claimed the coveted Golden Spurtle trophy and won the title of World Porridge Making Champion.

Competing against the world's finest porridge makers at the 16th Annual "Golden Spurtle" World Porridge Making Championships on Sunday, Oct. 11, Cox took first place in the traditional porridge category and also competed in the specialty category with his pear brandy-infused Oregon Orchard Oat Brûlée recipe.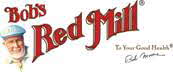 "What an incredible honor," said Matt Cox, who represented Portland, Ore.-based whole grains company Bob's Red Mill in the international competition. "We came to Scotland to celebrate our passion for porridge with the Scots and we are just elated to win the world title."

Cox competed against 14 porridge-makers who came from Scotland and the United Kingdom, Sweden and Canada. The competitors included professional chefs, hoteliers, caterers and porridge enthusiasts.

The first (and only) U.S. competitor to enter the international competition, Cox prepared Steel Cut Oats from Bob's Red Mill for the competition's traditional category, which permits chefs to use only oats (the Scots call them "pinhead" oats), water and salt.

"I am absolutely delighted that Bob's Red Mill has won the Golden Spurtle," said Bob's Red Mill founder Bob Moore. "Since my first visit to Scotland, I've always been impressed with the quality of Scottish oats. To have won this title says great things about our oats – we can really say that we have the world's best oats."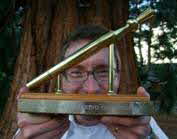 Cox also competed in the Specialty Porridge category, preparing Oregon Orchard Oat Brûlée: an Oregon-themed oatmeal recipe featuring Bartlett pears, dried cherries, hazelnuts and Pear Eau de Vie from Clear Creek Distillery. Celebrating the best of Oregon agriculture, the recipe was developed over several months. First place in the specialty category went to Anna-Louise Batchelor from Reading, England for her recipe of steamed porridge Spotted Dick with custard.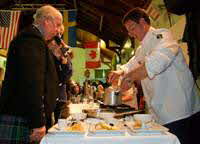 The team from Bob's Red Mill will return home with the coveted "Golden Spurtle" trophy. A Scottish kitchen tool dating back to the 15th century, a spurtle is a rod-like stirring stick that is traditionally used to prevent porridge from becoming lumpy. Expanding on its Oregon theme, Bob's Red Mill competed with its own custom "Myrtle Spurtle" made from Oregon myrtle wood.

Team Bob's Red Mill teammate and Executive Vice President of Sales & Marketing Dennis Gilliam noted that the company was looking forward to sharing their oats with some of the world's foremost experts on the subject.

"We have had an amazing time at the Golden Spurtle event in Carrbridge," Gilliam added. "And there's no doubt that we will be back again next year to defend our title."

The Bob's Red Mill team is posting updates about its experience at the Golden Spurtle online at:
Bob's Red Mill blog: http://www.bobsredmill.com/blog/

About Bob's Red Mill
Bob's Red Mill Natural Foods, a distinctive stone grinding miller of whole grains, was founded in 1978 with the mission of moving people back to the basics with healthy whole grains, high-fiber and complex carbohydrates. Bob's Red Mill offers a diverse line of all natural, organic and gluten-free flours, cereals, meals and mixes for pancakes, breads and soups, with more than 300 products available throughout the U.S. and Canada. With its dedicated gluten-free manufacturing facility and strict organic protocols, the company has emerged as a leader in providing safe and delicious natural, organic and gluten-free products. For more information visit www.bobsredmill.com