LEINENKUGEL'S BEER HISTORY
Legendary Brewer Captures the Essence of the Northwoods
There's something pretty amazing about an escape to the Northwoods. The crisp air. Freshwater streams. Unforgettable sunsets. It's about getting away to a better place.

In 1866, when Jacob Leinenkugel first arrived in Wisconsin's Northwoods he knew there was an opportunity brewing in Chippewa Falls. The 2,500 lumberjacks settled there needed something to quench their hearty thirsts after a long day outdoors. The son of a German Brewmaster, Jacob set to work on building the Spring Brewery with business partner John Miller. The brewery's name held the secret of their rich, tasty product: the pure water that flowed from the Big Eddy Spring was perfect for brewing fullbodied beer. And, in 1867, Jacob brewed the first batch of Leinenkugel's beer.


Within 13 years, Jacob and his crew were handcrafting 1,800 barrels of Leinie's per year to meet the growing demand for quality beer in the Chippewa Valley. By 1890, he had expanded the renamed Jacob Leinenkugel's Spring Brewery to include a new brew house, a three-story malt house and a barn to house the teams of horses that drew the Leinie's delivery wagons. After Jacob's death in 1899, his son Matt stepped in as the second-generation Leinenkugel to oversee the precious family heritage that is Leinenkugel's beer.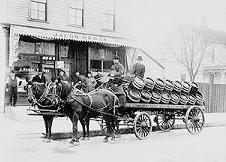 Over the next 70 years, Matt's children and grandchildren continued to build on the growing legacy. During prohibition, from 1918 to 1933, Leinie's made soda water. When World War II began in 1941, Leinenkugel's beat out the competition by being the only beer not to raise prices.

In 1971, after 30 years of involvement with the brewery, J. William Leinenkugel, great-grandson of founder Jacob, became president. In 1978, Leinie's had the distinct honor of being labeled "The Pride of the Northwoods" by Newsweek.

As the fifth generation of the Leinenkugel family to run the brewery, Jake, Dick and John take the same pride in the beer, as did their father, and their grandfather, great-grandfather and great-great-grandfather before them. The family's love for the Northwoods and dedication to handcrafting the finest beers from quality ingredients remains unchanged.

The Brothers
Today fifth-generation Leinenkugel brothers Jake, Dick and John have continued their great-great grandfather's dedication to brewing great beer. Unique to the industry, the three brothers promote their namesake brew with a personal approach, personally meeting and connecting with loyal fans to share their passion for craft beer. Two other fifth generation Leinenkugel descendants, brothers David and Jamie Mayer are also following in their father and grandfathers footsteps in the brewing industry. David is the Order Planning/Production Manager, and Jamie is a production worker at Leinenkugel's.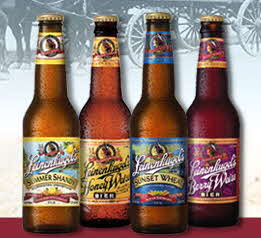 The Beer
Inspired by its natural Northwoods surroundings, Leinenkugel's brews an adventurous array of fullflavored brews in small, high-quality batches. From its best-selling crisp Honey Weiss, made with fresh Wisconsin honey, to Sunset Wheat, a wheat beer offering with a hint of citrus, Leinenkugel's continues to tempt palates and inspire the craft beer category. In fact, Leinie's introduced Berry Weiss in 1996, long before fruit beers were considered a trend. Leinenkugel's is also the only U.S. brewer producing a traditional shandy-style beer with its Summer Shandy, the brewer's summer seasonal and newest offering introduced in April 2007.

The Portfolio
Original, Light, Honey Weiss, Sunset Wheat, Red, Creamy Dark, Berry Weiss, Oktoberfest, Apple Spice, Big Butt Doppelbock and Summer Shandy.

The greatest thing about the Leinenkugel Legend is that it's not really a legend, by definition. It's the true story of a family who has, since 1867, captured the essence of the Northwoods and poured it into crisp, refreshing, full-bodied beers.

For more on Leinenkugle's history visit www.leinie.com