Food History:
Walkerswood Caribbean Foods

Tucked away in the hills of St Ann, Walkerswood Caribbean Foods has worked to bring a taste of the Caribbean to the world with an innovative line of traditional cooking sauces, spices, seasonings, preserves and canned vegetables.

In the 1970's community councils were formed island wide including the Walkerswood Community Council. It set itself four major objectives: (1) The building of a community centre (2) The provision of drinking water for everyone (3) Improving the Basic school (4) providing employment. An 'employment committee' was formed which worked towards the formation of Walkerswood Caribbean Food Limited (then Cottage Industries) and other village enterprises.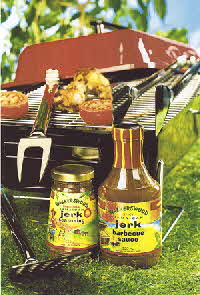 In 1976, with the assistance of the Jamaica Industrial Developoment Corporation, Walkerswood Caribbean Foods embarked on its first project of 'jerking' pork which it sold to local bars. 'Jerk' pork was a firm local favourite and many villagers reared pigs in their back yard. Two people were employed. The Company's objective was to ensure that everyone in the community who wanted to work could get a decent job. The village had been losing its young people to the urban lures of Kingston and Ocho Rios.
The company was incorporated in 1978 and reached sales of J$31,000 in its first year. In the next years it added other products to its range and decided to bottle its Jerk Seasoning for sale in 1983 - realizing the wide application of the seasoning with other dishes and the religious objections that many had to eating pork. Many letters from abroad started arriving requesting the seasoning. This led the company to be the first Jamaican Exporter of Jerk Seasoning from 1986. Since then, Walkerswood range of products has grown to over 20 and includes popular sauces such as Coconut Rundown, Escoveitch Pickle Sauce and the most recent addition in 2002, a feisty litter pepper sauce called Firestick.

In keeping with our commitment to authenticity and quality, raw materials are purchased fresh from local farmers across the island. Peppers are also bought from the Walkerswood Farmers Group, the village community farm, which the company helped to organize. Responding to growing demand for produce, Walkerswood started its own farming enterprise 'Green Adventures', and now contracts over a hundred farmers island wide.

Today Walkerswood has annual sales of J$185 million, 84% of its production is exported, has undertaken to provide quality Caribbean food to all five continents. It now employs a full time staff of over 100 people and is employee-owned.