TURMERIC
(Curcuma longa)
One pound turmeric = 4 cups
1 Tablespoon = 1/4 ounce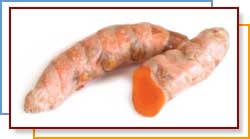 Fresh tumeric roots should have a spicy fragrance and stubby fingers protruding from the sides of the root. Refrigerate unpeeled turmeric, tightly wrapped, for 3 weeks.

Tumeric is typically boiled or steamed and then dried and ground into powder. Use ground tumeric in fish or rice dishes. Be careful with fresh turmeric, it will stain your hands and clothing.
Ground Turmeric has a characteristic musky, earthy aroma and a pungent, slightly bitter flavor.

Turmeric is a powerful coloring agent. Used to color and flavor prepared mustard, pickles, relish, chutneys, and rice dishes as well as butter and cheese. It is also used in spice blends in the Caribbean, India, North Africa, the Middle East, and Indonesia such as curry powder and rendangs.