SPICY PUMPKIN MUFFINS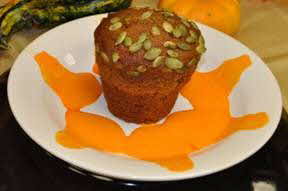 INGREDIENTS
• 3 Cups all-purpose flour
• 1½ Teaspoon baking soda
• 1½ Teaspoon baking powder
• 1½ Teaspoon salt
• 1½ Teaspoon ground cinnamon
• 1¼ Teaspoon ground ginger
• 1/4 Teaspoon ground allspice
• 1¼ Cup packed light brown sugar
• 1¼ Cup granulated sugar
• 2 Sticks unsalted butter (melted and cooled)
• 5 Large eggs, lightly beaten
• 1- 15oz. can pumpkin puree

PREPARATION
1. Preheat oven to 350°F.

2. Line cupcake pan with paper liners.

3. In a medium bowl, whisk flour, baking powder, salt, cinnamon, ginger, nutmeg, allspice and set aside.

4. In a large bowl, whisk brown sugar, granulated sugar, butter and eggs.

5. Mix ingredients from both bowls and whisk until smooth and add pumpkin puree.

6. Pour batter uniformly among liners, filling each half full.

7. Bake for 20 – 25 minutes.

8. Transfer onto a wire rack and let it cool off.

* Recipe courtesy of Maria Zoitas, creator of "Maria's Homemade" line of prepared food sold exclusively at Westside Market NYC www.wmarketnyc.com/