FOSTER FARMS TURKEY HELPLINE
Foster Farms Celebrates More Than 20 Years of "Saving The Day"
Consumers count on Foster Farms Turkey Helpline experts and web resources
Imagine this scenario: you bring that beautiful turkey to the table for the designated turkey carver. Smiles abound as everyone anticipates the tasty morsels soon to be piled on their plates. In goes the knife...and you realize the turkey isn't fully cooked. You're mortified. Twelve people sit around the table, smiles turn to sighs, and all the side dishes sit there. What can you do? You put the turkey back in the oven and everyone digs into the yams, dressing and string beans. They fill up on these and the corn bread, and when the turkey is finally done, they're all too full to touch it!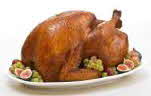 Fortunately, Foster Farms turkey experts are there as a resource for consumers to help avoid any potential Thanksgiving disasters with a FREE, 24-HOUR HELPLINE (1-800-255-7227). Whether consumers are facing turkey disasters, or need answers to last-minute questions, experts at the Foster Farms Turkey Helpline will be ready to help. Also, the Foster Farms Web site (www.fosterfarms.com) is the perfect place to find budget-friendly holiday recipes, cooking and preparation guides, carving instructions, nutrition information, food safety tips, and more than 170 special holiday turkey recipes.

Turkey Hotline Details:
ยท Foster Farms Turkey Helpline operators will be on-call 24 hours a day, seven days a week from November 18-30, including Thanksgiving Day.
ยท The Turkey Helpline experts can be reached at (800) 255-7227.
ยท Prior to November 18 and after November 30, the Foster Farms Turkey Helpline is available Monday through Friday between 8:00 a.m. and 5:00 p.m. PST.
ยท Online resources are available at www.fosterfarms.com year-round.
"We help home cooks with any turkey-related question or concern—large or small," says Teresa Lenz, Foster Farms' Consumer Affairs Manager who has been at the helm of the Turkey Helpline for 15 years. "We get questions from first-time cooks who may need advice on how much turkey to buy to feed their guests, and from experienced cooks experimenting with new recipes or equipment."

Turkey Tips from Teresa Lenz: Turkey Pro from the Foster Farms Turkey Helpline
Don't let your guests go hungry - This is the cardinal rule for Thanksgiving. Make sure that you have enough turkey for everyone. Estimate 1 - 1.5 lbs. of turkey per person. When in doubt, go bigger and count on having leftovers for delicious meals the next day.

Avoid a Turkey-cicle - There are two methods for defrosting turkey, in the 'fridge (less effort, more time) or in a cold water bath (shorter time, more effort). Whichever method you choose, make sure you allow for enough time for the turkey to thaw completely.

Turkey Weight In the 'Fridge Cold Water*
8-12 lbs. 1-2 days 4-6 hours
12-16 lbs. 2-3 days 6-9 hours
16-20 lbs. 3-4 days 9-11 hours
20-24 lbs. 4-5 days 11-12 hours
* Change water every 30 minutes.

Make sure your oven is big enough - Before the big day, it's a good idea to make sure your turkey fits in the roasting pan and fits in your oven. Cooking in someone else's kitchen? Call ahead to confirm the oven size!

Have turkey gear ready - Roasting pan (or disposable foil pan), meat thermometer and foil are the basic essentials. You will also need a sharp knife for carving. And don't forget the fire extinguisher just as a precaution.

Check for giblets - Avoid surprises. Make sure to check the inside cavity first to remove the giblets and/or any plastic casing.

Keep it covered - The breast cooks faster than the other parts of the turkey. To prevent uneven cooking - or messy splatters that can be a fire hazard - loosely cover the breast with foil and uncover during the last hour of cooking.

Take the temperature - Your grandmother may insist on her own method of checking turkey, but the most reliable method to prevent undercooking is by using a meat thermometer. The thermometer should read 180-185 degrees F in the thickest part of thigh (not touching bone) for whole turkey, or 170-175 degrees F in the thickest part of the breast for turkey breast.

In addition to the Turkey Helpline, the Foster Farms Web site is a comprehensive resource for the holiday season. The site features budget-friendly holiday meal suggestions, cooking and preparation guides, carving instructions, nutrition information, food safety tips, and praise-worthy recipes such as Terrific Turkey Tetrazzini, Rosemary Roasted Turkey and Maple Roast Turkey. The company has also developed a holiday-themed brochure, A Fresh Idea for the Holidays, filled with turkey preparation tips and recipes, available at retail stores or by calling (800) 255-7227.

Foster Farms' fresh turkey offerings include Whole Young Turkey for traditional roasts, Young Turkey Breasts for shorter cooking times, and pre-marinated Savory Servings® Turkey for no-fuss preparation. Foster Farms' Savory Servings pre-marinated Turkey Tenderloins are ideal for households hosting smaller feasts or to experience the taste of a traditional Thanksgiving meal anytime of the year.
About Foster Farms
Since 1939, West Coast families have depended on Foster Farms for premium quality chicken and turkey products. Family-owned and operated, the company continues its legacy of excellence and commitment to quality established by its founders, Max and Verda Foster. Foster Farms specializes in fresh, all natural chicken and turkey products free of preservatives, additives or injected sodium enhancers. Based in California's Central Valley, with ranches also in the Pacific Northwest, the company's fresh chicken and turkey are produced in or near each region served. Foster Farms also produces delicious pre-marinated, ready-to-cook and fully cooked products that meet the quality and convenience needs of today's home cooks, retailers, warehouse clubs and foodservice customers. The company's commitment to excellence, honesty, quality, service, and people is a source of great pride, and, a longtime family tradition.