LIMES
Limes (Citrus aurantifolia) are the fruit of tropical citrus tree closely related to lemons. This evergreen tree is in the Rue family, Rutaceae, which also includes citrus fruits such as oranges, lemons and kumquats. Limes are native to Southeast Asia, and probably originated in Indonesia or Malaysia. They made their way to the eastern Mediterranean with the Arabs, and to the western Mediterranean, with returning Crusaders, and eventually to the West Indies, when Columbus introduced citrus fruits there on his second voyage. These limes, used in most of the world, are what we call Key Limes.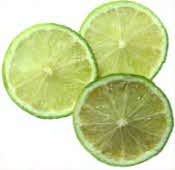 The large, green, seedless limes found in your supermarket is the Persian or Tahiti Lime (Citrus latifolia) a hybrid developed in the early 20th century. The fruit is larger than the Key Lime, more resistant to disease and pests, and has a thicker rind. They are picked slightly immature, while they are still green in color (they turn yellow when fully ripe, and might be confused with lemons).
Key limes which predominate in the rest of the world, are smaller, yellower in color, seedy, sourer, and grow on thorny trees which are sensitive to cold weather.