HOT POT!
Food for Thought - Mar 24, 2010 - Mark R. Vogel - [email protected] - Mark's Archive
I was introduced to Chinese Hot Pot by my wife who is from Beijing. Hot Pot is now one of my favorite meals. Hot Pot, as the name implies, is a large pot of boiling liquid, often infused with spices, in which all kinds of meats, vegetables, and noodles are cooked. Historically, a ceramic or steel bowl is heated over charcoal and the fluid brought to a boil. The ingredients are then placed in the bowl, cooked, removed, and then topped with a myriad of different sauces, garnishes, and seasonings. For me, Hot Pot epitomizes all the best dimensions of food: it's hearty, intensely flavored, often hot and spicy, and deeply fulfilling. The constituents are extremely diverse and therefore can be tailored to your palate.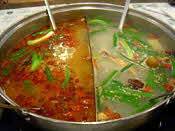 Hot Pot originated in China at least 1,000 years ago. Some claim it hails from Mongolia but there is paltry historical data to support that contention. China is the likely source but disagreement still exists as to whether northern China or the Sichuan province, (in the south-central part of the country), was the actual birthplace. Hot Pot is definitely popular in Sichuan where it is often hot and spicy thanks to the incorporation of chile peppers and Sichuan peppercorns.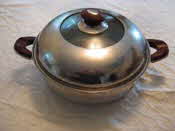 The northern China proponents contend that Hot Pot arose there during the Tang dynasty (618 -906 A.D.), and then spread to other sections of China. Whatever the provenance, the various regions of China each put their own spin on it by utilizing ingredients indigenous to their locales. Sichuan, as stated, added their beloved hot peppers and spices. Northern and interior provinces prefer lamb or mutton, while coastal areas use seafood.
Traditionally Hot Pot is eaten in the cold months. The boiling liquid, meat, and spices all contribute to the warming of the body and soul, instantly taking the chill out of winter. But personally I don't care what season it is; Hot Pot is welcome any time.
As for the equipment, you'll want to visit an Asian supermarket. There you can find a Sichuan-style Hot Pot which has a metal divider running down the center. This enables you to have two reservoirs of boiling liquid in the same pot. The function of the dual pot is to allow for two differently flavored liquids. A common dichotomy is to have one side that's hot/spicy and one that is not. For example, when my wife and I make Hot Pot I place regular chicken broth on the one side and chicken broth with very spicy Hot Pot seasoning mix in the other. She prefers a straightforward cooking fluid where for me; if I'm tearing I've achieved the right level of heat. The pot can be placed on the stove, but if you'd like to have your guests sit around the pot at the table, (the customary arrangement), use an electric, portable burner. The only other special gadgets you need are some hand-held strainers, or chopsticks, to remove the food to individual bowls while retaining the liquid in the pot for the next batch. Now let's get to the best part: the food! Remember, there are multitudinous choices.

Let's start with the cooking medium. Chicken, vegetable, or beef broth, or even just plain water can be used, either unadulterated or mixed with seasonings. Naturally, broth will afford more flavor than water. Hot Pot seasoning mixes abound but beware; some are very hot and spicy. Check with your Asian grocer before choosing a particular brand. Simply add some of the mixture to your broth, allow it to dissolve and infuse, and then taste for additional seasoning.
As for the protein, beef, pork, lamb and chicken are the most common non-marine proteins while a panoply of fish and shellfish are employed for the seafood route. In authentic Chinese restaurants, such as in New York's Chinatown, you'll have a number of other funky options from these critters' anatomy but we won't go into that now. Whatever protein you desire, ensure it is cut small or sliced very thin. Hot Pot is quick cooking. The food is briefly dipped in the boiling liquid and retrieved promptly. In Asian markets, you can find packages of beef, lamb, pork, etc., sliced almost paper thin, specifically destined for Hot Pot. If you can't acquire the pre-sliced meat and hence must fabricate it yourself, take whatever cut of meat you have and partially freeze it. This will facilitate easier slicing. Then cut it into very thin shavings.

Vegetable possibilities are fairly endless too. My favorite combo is watercress and bean sprouts but bok choy and other cabbages, mushrooms, spinach, various lettuces, daikon, and even tofu can be included. Noodle selections vary as well but all should be pre-cooked to facilitate the alacrity of Hot Pot cooking. Thicker noodles will need to be pre-boiled but not completely as they will finish cooking in the Hot Pot. We like thin rice noodles which only require a brief soak in very hot water prior to use.

Finally there is a universe of sauces, condiments and garnishes to top off the food once it is removed from the cooking liquid. Sauces include soy, Hoisin, hot chile oil, rice wine vinegar, Sriracha, sesame oil, and many more, as well as an infinite combination thereof. I like to include a few tablespoons of the cooking liquid as well. Continuing with the never ending extravaganza: chopped cilantro, garlic, ginger, hot peppers, scallions, etc., can all be sprinkled on too.

OK, let's recap the whole process in the interest of clarity. The dizzying array of elements can seem overwhelming and abstruse. Pour the liquids and/or seasoning mix into the pot. Cover the pot and bring to a boil. Then add your meats, vegetables and parboiled noodles. Some items may take a little longer to cook. For example, the stems on watercress are rather firm and may need a head start. But by and large, everything should cook at about the same time. Thin meats and delicate vegetables will cook in less than a minute. Remove the food to your bowl, add the sauces and condiments you desire, and enjoy! Be it winter or fair weather, Hot Pot is an exhilarating taste sensation.
Also Visit Mark's website: Food for Thought Online