See also: Cornish Game Hen Facts
CORNISH HENS & ROASTED VEGETABLE DINNER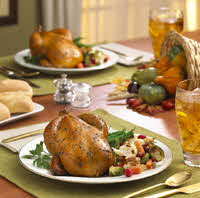 Serves 4 – 8
Ingredients:
• 4 Cornish Game Hens, thawed
• 2 teaspoons lemon-pepper seasoning
• 1 teaspoon garlic powder
• 2 tablespoons olive oil
• 4 tablespoons butter, melted
• ½ teaspoon pepper
• 8 small red potatoes, cut in halves, 2 lb.
• 4 cups fresh baby carrots, broccoli and cauliflower florets, mixed
• 1 pound mushrooms, fresh and halved

Cooking Instructions:

1. Rinse hens under cold water and pat dry.

2. Sprinkle hens inside and out with lemon pepper and ½ teaspoon garlic powder.

3. Place in 15 x 10-inch baking pan sprayed with nonstick cooking spray.

4. Mix potatoes, carrots, broccoli, cauliflower, mushrooms and butter in a large bowl. Drizzle with olive oil; toss to coat. Sprinkle with remaining ½ teaspoon garlic powder and pepper; mix well.

5. Spoon vegetables between and around hens. Do not crowd hens.

6. Bake at 400 degrees F, stirring vegetables once, 45 to 55 minutes or until hens are golden brown and done (internal temp 180 degrees F).

Recipe courtesy of www.tyson.com