See also: Cornish Game Hen Facts
APPLE GLAZED CORNISH GAME HENS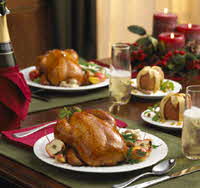 Serves 4 – 8
Ingredients:
• 4 Cornish Game Hens, thawed
• 12 ounces unsweetened apple juice concentrate, undiluted
• 3 tablespoons water
• 3 teaspoons cornstarch
• 1 teaspoon cinnamon
• 4 lemon slices

Cooking Instructions:
1. Rinse hens under cold water and pat dry.

2. Place the hens in a 15 x 10-inch baking pan.

3. Dilute ½ cup of the apple juice concentrate with the water. Pour juice over the hens.

4. Bake uncovered at 350 degrees F for 45 minutes.

5. In a small pan over medium heat, combine the remaining apple juice concentrate, cornstarch and cinnamon; mix well.

6. Add 4 lemon slices and continue cooking until thickened.

7. Remove from heat and brush hens with the sauce.

8. Return the hens to the oven and continue to bake for an additional 10 to 15 minutes or until hens are golden brown and done (internal temp 180 degrees F).

Recipe courtesy of www.tyson.com