See also: Cherry Varieties and Use; Cherry Trivia; Cherry Tips
THE EXTRAORDINARY HISTORY OF CHERRIES
Cherries have pleased the palates of food lovers for centuries. Their ruby-red color and tangy taste won cherries a place on the tables of Roman conquerors, Greek citizens and Chinese noblemen. Cherries were brought to America by ship with early settlers in the 1600s.

Later, French colonists from Normandy brought pits that they planted along the Saint Lawrence River and on down into the Great Lakes area. Cherry trees were part of the gardens of French settlers as they established such cities as Detroit, Vincennes, and other midwestern settlements.

Modern day cherry production began in the mid-1800s. Peter Dougherty was a Presbyterian missionary living in northern Michigan. In 1852, he planted cherry trees on Old Mission Peninsula (near Traverse City, Michigan). Much to the surprise of the other farmers and Indians who lived in the area, Dougherty's cherry trees flourished and soon other residents of the area planted trees. The area proved to be ideal for growing cherries because Lake Michigan tempers Arctic winds in winter and cools the orchards in summer.
The first commercial tart cherry orchards in Michigan were planted in 1893 on Ridgewood Farm near the site of Dougherty's original plantings. By the early 1900s, the tart cherry industry was firmly established in the state with orchards not only in the Traverse City area, but all along Lake Michigan from Benton Harbor to Elk Rapids. Soon production surpassed other major crops. The first cherry processing facility, Traverse City Canning Company, was built just south of Traverse City, and the ruby-red fruit was soon shipped to Chicago, Detroit and Milwaukee.
The Montmorency is the primary variety of tart cherry. It was planted in the early orchards and is still used today. The fruit is excellent for pies, preserves and juice. The newest American variety of tart cherry is the Balaton. Dr. Amy Iezzoni developed this cherry variety at Michigan State University. It currently has limited production, but has great potential for the fresh market and for juice.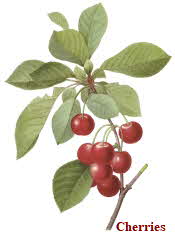 In the Northwestern part of the United States, cherry orchards also flourished. In 1847, Henderson Lewelling planted an orchard in western Oregon, using nursery stock that he had transported by ox cart from Iowa. Lewelling Farms became known for its sweet cherries with orchards coming into production during the 1870s and 80s.
The most famous sweet cherry variety is the Bing cherry; this cherry variety got its name from one of Lewelling's Chinese workmen. Another sweet cherry variety is the Lambert, which also got its start on Lewelling Farms. The Rainier cherry, a light sweet variety, originated from the cross breeding of the Bing and Van varieties by Dr. Harold W. Fogle at the Washington State University Research Station in Prosser, Washington. The Bing, Lambert and Rainier varieties together account for more than 95 percent of the Northwest sweet cherry production.

Maraschino cherries, the kind most often used in drinks and on ice cream sundaes, are made from sweet cherries. The maraschino cherry originated in Yugoslavia and northern Italy where merchants added a liqueur to a local cherry called the "Marasca." This cherry product was imported to the United States in the 1890s as a delicacy to be used in the country's finest restaurants and hotels. In 1896 U.S. cherry processors began experimenting, using a domestic sweet cherry called the Royal Anne. Less liqueur was used in processing and almond oil was substituted for some of the liqueur. Finally, the liqueur was eliminated altogether. By 1920, the American maraschino cherry was so popular that it had replaced the foreign variety in the United States.

Today, the U. S. cherry industry produces more than 650 million pounds of tart and sweet cherries each year. Much of the cherry production is concentrated in Michigan and the Northwest. Michigan grows about 75 percent of the tart cherry crop. Oregon and Washington harvest about 60 percent of the sweet cherry crop. Other states with commercial cherry crops are Utah, Wisconsin, New York, Pennsylvania and California.

The ultimate celebration of cherries is the National Cherry Festival. It's held every year in July in the "Cherry Capital of the World"-Traverse City, Michigan. This festival originated from a spring ceremony known as the "Blessing of the Blossoms." Thousands of visitors come from all over the world to celebrate the harvest and, of course, eat cherries.

Article courtesy of the Cherry Marketing Institute - www.cherrymkt.org