FoodReference.com

(Since 1999)



Home | FOOD_ARTICLES | Food_Trivia | Today_in_Food_History | Food_History_Timeline | Recipes | Cooking_Tips | Food_Videos | Food_Quotes | Who's_Who | Culinary_Schools_&_Tours | Food_Trivia_Quizzes | Food_Poems | Free_Magazines | Food_Festivals_and_Events

Food Articles, News & Features Section

You are Here: Articles > Food History 'A' to 'C' .....


A la mode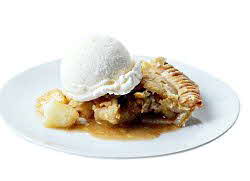 A la mode is a French term meaning, "in the current style or fashion". It describes a dish of beef marinated in red wine and herbs, browned and then slowly braised with onions and carrots. It is served with a sauce made from the marinade. A dish he called 'boeuf a la mode' was served by the famous 18th century chef Marin in 1732, and there was also a restaurant named 'Boeuf a la mode' founded in 1792 in Paris, and in 1850 a restauranteur named Duval served his customers 'boeuf a la mode' and claims to have created it. All are similar but not quite the same as the dish as served today.
The term can also be combined with the name of a town or region, denoting a specialty of that area. (i.e. tripe a la mode de Caen, chicken a la mode de Sorges).
In the U.S., pie a la mode appeared sometime in the 1920s and refers to pie (usually apple pie) served with a scoop of ice cream (usually vanilla) on top.
RELATED ARTICLES:
Home | About_Us_&_Contact_Us | Chef_James_Bio | Website_Bibliography | Food_Links

Please feel free to link to any pages of FoodReference.com from your website.
For permission to use any of this content please E-mail: [email protected]
All contents are copyright © 1990 - 2018 James T. Ehler and www.FoodReference.com unless otherwise noted.
All rights reserved. You may copy and use portions of this website for non-commercial, personal use only.
Any other use of these materials without prior written authorization is not very nice and violates the copyright.
Please take the time to request permission.