PEPINO MELON
History:
The Pepino melon (Solanum muricatum) is native to the highlands of Peru and Chile, but is now also grown in other South and Central American countries, in California and in New Zealand. The plant is not found in the wild and details of its origin are unknown. They were being grown in California at least by 1889. Today they are popular in Japan.
Other Names
It is also known as treemelon, bush melon, pepino melon, melon pear and mellowfruit. Pepino is Spanish for 'cucumber', and the Latin American name pepino dulce means 'sweet cucumber.'
('Pepino' is also used in some areas of South America for the Cassabanana.)

Description
Pepino's are teardrop shaped and have a smooth skin that is striped with yellow and dark purple. The typical fruit is about 5 inches long and 3 inches in diameter. The flesh of this fruit is fragrant and combines the tastes of cantaloupe and honeydew.

Selection, Storage, and Preparation
Pepinos are available late fall to mid-spring. Fruits with a light yellow or green skin are not ripe, while fruits with dark purple stripes are ripe. Ripen at room temperature until as firm as a slightly ripe plum, then refrigerate ripe fruit for up to 3 days.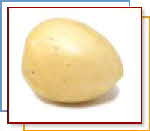 --Pepinos are best served peeled and cubed or sliced.
--Use atop spinach salads.
--Add to fruit medleys.
--Eat plain for breakfast or a light snack.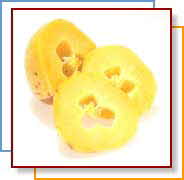 NUTRITION
Serving Size: 1 medium (100g)
Amount Per Serving % Daily Value
Calories 80
Calories from Fat 0
Total Fat 0g 0%
Saturated Fat --g --%
Cholesterol --mg --%
Sodium 0mg 0%
Total Carbohydrate 22g 7%
Dietary Fiber 5g 20%
Sugars --g
Protein 0g
Vitamin A --%
Vitamin C --%
Calcium --%
Iron --%
* Percent Daily Values are based on a 2,000 calorie diet.