PARKER RANCH, HAWAII
Parker Ranch, in Waimea on Hawaii's Big Island, was founded in 1847. It is one of the oldest ranches in the United States. Spreading approximately 150,000 acres of the island, Parker Ranch is also one of the country's largest cattle ranches.

The story begins in 1809, a single generation after Captain James Cook first encounters these tropic isles. A nineteen year old sailor named John Parker jumps ship and hides in a thicket as the ship that brought him to Hawaii drops below the horizon.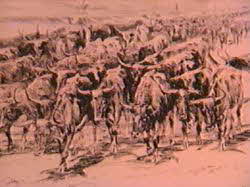 John Parker comes to the attention of the great King Kamehameha I, the monarch who fought to unite the islands in a single kingdom, and John is given important tasks by the king. John returns one more time to the sea for adventure in China during the War of 1812, but then returns to Hawaii to stay for good. Having brought back with him a new, state-of-the-art American musket, John is given the privilege of being the first man allowed to shoot some of the thousands of maverick cattle that roam Hawaii's remote plains and valleys. These rangy beasts are the legacy of British Captain George Vancouver, who presented Kamehameha with five head just 21 years earlier.

Due mostly to John's efforts, salt beef eventually replaces the increasingly scarce sandalwood as the island's chief export. As the need for beef increases, so does John's fortune and influence. A year after he returned to Hawaii in 1815, he had married Kipikane, the daughter of a high-ranking chief, who took the Christian name Rachel. Rachel Parker bears John a daughter and two sons, and the Parker dynasty begins, figuring prominently in the next two centuries of Hawaiian history.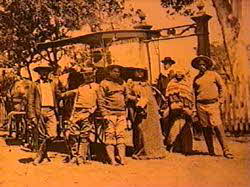 In 1992, following the death of Richard Smart, the ranch's last owner, Parker Ranch, complete with Smart's extensive art collection was left in a trust to benefit the Waimea community.

Today the Ranch is a diverse company whose businesses include cattle ranching, visitor activities, commercial leasing and real estate holdings. Between 30,000 and 35,000 head of Angus and Charolais cattle produce USDA choice beef marketed under the Parker Ranch Angus Pride Brand label in the U.S. and Canada. Approximately 90% of Parker Ranch's lands are utilized for cattle grazing and related activities.

Parker Ranch also offers opportunities for visitors to learn more about the history and culture of the Ranch.

The Ranch contains 850 miles of fence, 275 paddocks and 45 corrals. The water system consists of 175 miles of pipeline, nine reservoirs, 145 water tanks, 40 ground tanks, three water dams and 650 water troughs. Annual beef production of the cow-calf operation is in excess of 15 million pounds.

Visit the Parker Ranch Website ( www.parkerranch.com )