APALACHICOLA
HISTORIC WATERFRONT SEAFOOD COMMUNITY
SEE ALSO: Oyster Recipes.
Where the Apalachicola River meets the bay and the quiet beaches of the Gulf of Mexico, sits the tiny town of Apalachicola, on what is known as Florida's Forgotten Coast. Visitors can stroll along the wide tree-lined streets with historic Victorian homes shaded by live oaks and Spanish moss and appreciate the "old Florida" history that Apalachicola has to offer. If you are looking for a place with a taste of Florida's Gulf Coast and plenty of charm, Apalachicola may be just what you've been searching for.

Apalachicola was laid out with streets and parks after Philadelphia, the model city of its time, in 1835. As in Philadelphia, Apalachicola's plan fashioned the town in a rectangular manner with an open square located near each of its four corners and a larger square at the town's center. Wharf lots were laid out along the Apalachicola River, with warehouse, commercial, and residential blocks beyond.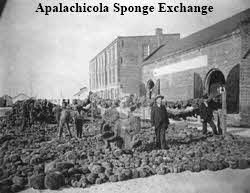 In the 1830s Apalachicola became the third largest port because of the cotton trade before the War Between the States, and after the cotton bust, turned to sponges, timber, and shrimping. It now harvests 90 percent of the oysters consumed in Florida and 10 percent of the nation's oyster supply. The harvesting of shrimp, blue crab and finfish also plays a major role in Apalachicola's economy. The waters surrounding Apalachicola are among the cleanest and purist in the world. From these pristine waters comes delicious prized seafood, some of the best in the state.

Florida's renowned Apalachicola Bay oysters are heralded by chefs worldwide for their mellow flavor, plumpness and balanced saltiness. Whether served au naturel on the half-shell or elaborately prepared in a delicate entree, oysters never cease to delight the senses.
Perhaps more than any other shellfish, these humble creatures of the flats have graced hundreds of gourmet restaurants and filled pages of cookbooks and family recipes worldwide. Traditionally, oysters are named by the bay, region or town where they are grown and not necessarily by their species. Apalachicola Bay, with its warm shallow water fed by the fresh water of the Apalachicola River, provides an excellent environment for oysters.
Oysters are a nutritious as well as succulent culinary delicacy. They are a low-calorie, low-cholesterol source of protein; an exceptional source of zinc, a mineral associated with strengthening the immune system; a prime source of omega-3, a fatty-acid linked to lowering the risk of heart attack, breast cancer, prostate cancer, and of stroke. Oysters can be fried, baked, steamed, broiled or microwaved and served as appetizers, main dishes, side dishes, salads or stews. When selecting fresh-shucked oysters, you should check for a clean, sea breeze aroma and a clear or slightly milky, light gray liquid called liquor.

Apalachicola is oyster, shrimp and seafood heaven. Whether you are looking for delicious gourmet cuisine or casual fare like oysters, Apalachicola has an array of excellent restaurants in breathtaking locations. Many local restaurants overlook the beautiful Apalachicola River and Bay, while others are tucked away in Apalachicola's historic downtown. Try one of the favorites listed below.
Apalachicola Seafood Grill and Steakhouse - 100 Market Street; Papa Joe's Oyster Bar and Grill - 301 B Market Street

Boss Oyster - 123 Water Street; Avenue Sea at the Gibson Inn - 51 Avenue C
For more information about the history of Apalachicola visit:
www.fl-seafood.com/apalachicola.htm
Florida Department of Agriculture and Consumer Services www.fl-seafood.com