See also: Beer & Brewing Articles
Lucky 13: Jewbelation Bar Mitzvah, Limited Edition Holiday Beer
Smaltz's 13th Chosen Beer in 13 Years is 13% alcohol, brewed with 13 Malts and 13 Hops
Shmaltz Brewing Company, handcrafters of HE'BREW- The Chosen Beer and the new Coney Island Craft Lagers™, is excited to celebrate their 13th year of delicious beer and delicious shtick with the special limited-edition release of Jewbelation Bar Mitzvah: their 13th Chosen Beer in 13 years of Shmaltz. Brewed with 13 malts, 13 hops and soaring to 13% alc, Jewbelation Bar Mitzvah will be nationally available in 22 oz. bottles and a limited amount of draft beginning October 1, 2009.
The national launch of Jewbelation Bar Mitzvah took place at the Great American Beer Festival in Denver, Colorado in, September 2009. Shmaltz proprietor Jeremy Cowan and the Shmaltz posse joined forces with Joe Carroll of Brooklyn's famous Spuyten Duyvil and Fette Sau on Friday, September 25 at the Beer and Food Pavilion as they presented Jewbelation 13: A Craft Beer Bar Mitzvah. Any good Jewish celebration demands delicious food, and Williamsburg Brooklyn's Fette Sau (named by Zagat as "Best BBQ in NYC") has stepped up to the culinary pulpit to create divine pairings that are sure to make you yell "L'Chaim!!"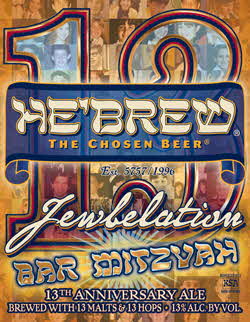 This winter, HE'BREW will pit Jewbelation Bar Mitzvah along with other Chosen Beers against national holiday beer luminaries in their annual challenge "Chanukah vs. Christmas: The Battle Royale of Beers" in NYC, San Francisco, Seattle, Portland, Atlanta, Connecticut, Baltimore and additional cities t.b.a.. Designed by Shmaltz's Art Director Matt Polacheck, Jewbelation Bar Mitzvah's artwork incorporates consumer submitted Bar/Bat Mitzvah photos culled from Shmaltz's recent national photo contest.

Since its inception in 2004, Shmaltz's Jewbelation series has been touted by critics receiving top accolades including "5 Stars" from Celebrator Beer News, "Best Holiday Beer" by Pacific Brew News, and Playboy Magazine pegging Jewbelation Twelve as one of the "Best Winter Brews." A recent issue of Beer Advocate (Volume II, Issue VIII) commented, "Today, Jeremy Cowan of Shmaltz Brewing Company is arguably making some of the best contract-brewed beers in America."
From the new Jewbelation Bar Mitzvah Label:
On April 24, 1982, I chanted, gave a speech about Leprosy, got my first Walkman, 3 pen sets, and 2 swiss army knives. The band was called Hot Borscht. As with all Bar and Bat Mitzvah kids, my parents recited a blessing Freundlinger, thanking God for finally being relieved of punishment for their child's sins. Lucky 13 all around.
At High Holidays, Jews recite 13 Attributes of Mercy revealed to Moses at Sinai. 13 million Jews inhabit the globe. Maimonides wrote the dogmatic 13 Principles of Faith, and died the 13th of Dec. 1204. The mystical Zohar emerged in 13th c. Spain, ascribed to a 2nd century Rabbi who studied Torah in a cave with his son for 13 years. The Jewish calendar follows 13 lunar cycles. Apollo 13 failed to reach the moon after an explosion on April 13 (1970). July 4th falls 13 days after summer solstice. 13 stripes on our flag represent the 13 Colonies. The 13th Amendment abolished slavery. Barack Obama represented the 13th district in the IL State Senate. In 1957 Sandy Koufax made 13 starts, struck out 13 in his first complete game, and pitched the final Dodger strike before they left Brooklyn. 13 attended the Last Supper. 13 bagels make a Baker's Dozen, began for fear of punishment under a 13th c. English law regulating the price of bread and beer. Genesis 13:13 tells of the wicked men of Sodom. Genghis Khan conquered the world in the 13th century. Black Sabbath released its debut album on Friday Feb 13th (1970). Recording Rain Dogs, Tom Waits told guitarist Marc Ribot "Play it like a midget's bar mitzvah." Happy 13, Shmaltzers. Together we rise and holler, "L'Chaim!" --Jeremy Cowan, proprietor.

About Shmaltz Brewing Company
Established in San Francisco in 1996 with the first batch of 100 cases of HE'BREW Beer bottled, labeled, and delivered by hand, Shmaltz Brewing Company introduced 6-packs in 2003 and moved its production East to the acclaimed Mendocino Brewing Company's Saratoga Springs, NY brewery. 2003 to 2008 saw over 1000% growth in sales, with over 5 million bottles sold to date. HE'BREW's award-winning lineup including its flagship Genesis Ale and Messiah Bold as well as Rejewvenator (Summer 2009 seasonal), Origin Pomegranate Strong Ale, Bittersweet Lenny's R.I.P.A., and the "extreme" Chanukah annual, Jewbelation, are available in over 25 states through over 30 wholesalers at more than 1500 retail specialty shops across the U.S. including Beverages & More, Whole Foods, Total Wine, select Krogers, and Cost Plus.