See also: Beer & Brewing Articles
Harvest Festivals, Fall Colors and Pumpkin Beer
Fall Season Michigan Traditions
The autumn season brings an abundance of things to the Great Lakes State – like fall colors, harvest festivals and a variety of pumpkin beer. While the recipes may be similar, there's always a touch of something unique in each of these fall brews – including the originality of the names.

"Every fall I get very excited for two things: NFL Football and Michigan pumpkin beer," says Cale Chapult, Sales Representative at Rave Associates in Ann Arbor. "There is nothing better in Michigan than a sitting by a nice fire and drinking one of our great pumpkin beers. We here in Michigan know how important it is to use all four seasons to the fullest. What could be better than chilly weather and Michigan pumpkin beer – made here in Michigan with real pumpkin and a dash of autumn spice? It's the best around!"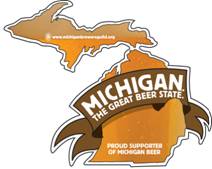 "Michigan pumpkin beers pair very well with food and chefs are integrating these beers more and more into food pairings." says Rick Lack, Executive Vice President at Rave Associates.
"The sweet aftertaste the beer provides has been instrumental in attracting new consumers into the craft beer category- particularly women we are noticing. If, you have not tried one yet ... do so, as this seasonal treat is come and gone in a matter of months."

Michigan made pumpkin brews available for 2009 include:
In terms of overall number breweries, microbreweries and brewpubs, Michigan ranks #6 in the nation – thus supporting its claim as "The Great Beer State."

The Michigan Brewers Guild exists to unify the Michigan brewing community; to increase sales of Michigan-brewed beer through promotions, marketing, public awareness and consumer education; and to monitor and assure a healthy beer industry within the state.

Each year, The Michigan Brewers Guild hosts four annual craft beer festivals, with the next – Michigan Harvest Beer Festival – scheduled for October 24 (1-6pm) at Eastern Market in Detroit.