Odwalla Soy Smart and Omega-3's
Although Americans have among the lowest consumption of Omega-3 fatty acid DHA in the world, the following studies continue to show Omega-3 to be a revolutionary ingredient:
• An intake of Omega-3 is correlated with a better mood and more positive outlook and may contribute to improving the structure of the areas of the brain associated with emotions. (April 2007, Psychosomatic Medicine)
• A small daily amount of Omega-3 can lower blood pressure. (August 2006, University of California, Davis)
• Eating a non-fish based source of Omega-3 could lower the risk of cardiovascular disease. (September 2006, Tufts-New England Medical Center)
• Omega-3 can possibly reduce the risk of getting colorectal cancer in men by two-thirds. (March 2007, Cancer Epidemiology Biomarkers and Prevention)
• Increased intake of Omega-3 DHA during pregnancy and lactation nourishes the development of babies and may play a significant role in infant heart health and a mother's well-being. (April 2007, Journal of Perinatal Medicine)

The Omega-3 trend is catching on. Omega-3 enhanced foods and drinks are forecasted to grow from $2 billion in 2006 to $7 billion by 2011.

Consumers now can easily incorporate this brain-charger into their diet. Odwalla announces the new Soy Smart line, available in Chai, Vanilla and Chocolate. Boasting a bold combination of soybeans, Omega-3 fatty acid DHA and calcium, Soy Smart is made with 86% or more organic ingredients. Soy Smart was developed with consumer health in mind (with 32 mg of Omega-3 DHA per serving), but delivers a savory adventure with a unique and tantalizing flavor.

Soy Smart will be available to consumers this month in supermarkets and natural food stores throughout the country for the suggested retail price of $3.29.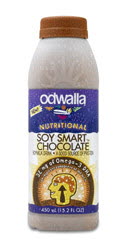 New Odwalla Soy Smart line features unique blend of soy protein, Omega-3 DHA and calcium

Although it's still bright and early in 2007, Omega-3 DHA has already burst onto the scene as the nutrition buzzword for consumers across the country - and for good reason. DHA is the most abundant Omega-3 in the brain and retina of the eye.

Starting in April, 2007, Odwalla, Inc., the nation's leading health beverage company, boosts its Omega-3-enriched portfolio with the new Soy Smart soymilk drink line available in Chai, Vanilla and Chocolate varieties. Made from the finest ingredients we could find, Odwalla Soy Smart is delicious and nutritious in every naturally sweet sip.

Boasting a good source of soy protein, 32mg Omega-3 fatty acid DHA and an excellent source of calcium, Odwalla Soy Smart is brimming with nutrients essential to daily well-being. Made with organic ingredients* this nourishing pick-me-up packs a one-two punch of taste and nutrition - Soy Smart was developed with consumer health in mind, but delivers a savory adventure with a unique and tantalizing flavor.

"DHA is the predominant Omega-3 fatty acid found in the brain," said Dr. David Perlmutter, internationally acclaimed neurologist and author. "With 32mg DHA, Odwalla Soy Smart is a smart choice for those looking for a new and nutritious beverage option."

All three varieties of the new Odwalla Soy Smart contain 32mg of life'sDHA, a proprietary vegetarian source of an important brain nutrient, docosahexaenoic acid (DHA), by Martek Biosciences Corporation. Although fish is a major dietary source of DHA, the life's DHA in Odwalla Soy Smart is an efficient, vegetarian way to provide DHA to your body.

"We are very excited about the addition of the new Soy Smart drinks to our nutritional line-up," says Chris Brandt, Odwalla's marketing director. "Odwalla has once again delivered a delicious soymilk drink with a truly unique blend of nutrients that's a smart choice for any occasion."

Soy Smart joins Odwalla's ever-expanding Omega-3 portfolio, including Odwalla Soymilk and Berries GoMega Nourishing Food Bars.


Odwalla Soy Smart Facts
Soy Protein: Each 8 fl. oz. serving of Soy Smart is a good source of soy protein with 6.25g of soy protein, a smart vegetarian choice, to help build muscle and maintain the body's cells and tissues.

Omega-3 DHA: Odwalla Soy Smart is an excellent source of docosahexaenoic acid (DHA), an Omega-3 fatty acid and important brain nutrient. Although fish is a major dietary source of DHA, Odwalla Soy Smart provides an efficient, vegetarian way to supply DHA to your body, containing 32mg per serving, or 20 percent of the 160mg Daily Value.

Martek's life'sDHA™: An all-natural, vegetarian ingredient used in Odwalla Soy Smart. Martek also produces the only source of DHA for use in infant formula and is currently found in more than 90 percent of all U.S. infant formula.

Bone Health: Odwalla Soy Smart is an excellent source of calcium, or 30 percent of the 1000mg of the Daily Value. It is also a good source of phosphorus and magnesium and an excellent source of manganese - all which help support strong bones and teeth.

Smart Choice: Odwalla Soy Smart is a naturally lactose free and cholesterol free food.

Packaged in 450mL (15.2 fl. oz.) grab-n-go recyclable plastic bottles with a suggested retail price of $3.29 and available in Chai, Vanilla and Chocolate, Odwalla Soy Smart will arrive beginning April 2007 in supermarkets and natural food stores throughout the country.

About Odwalla
Odwalla, Inc., the nation's leading natural health beverage company, delivers nourishment coast to coast with the Odwalla family of juices, juice drinks, soy beverages and nourishing food bars. Odwalla has been making juices and innovating in the natural health beverage category for more than 25 years. Its nourishing beverages and food bars are available in natural food stores, select supermarkets and specialty outlets throughout the country.

To learn more about Odwalla products and Odwalla's commitment to the environment, please visit www.Odwalla.com or call 1.800.ODWALLA.

*Made from 86% organic ingredients