Teeccino's Maya Organic Herbal Coffee
If you love that cup of joe, but the effects of caffeine don't love you, you're in luck because there's a new and great tasting way to get coffee satisfaction with no caffeine reaction.

Teeccino's Maya Organic Herbal Coffees are the perfect solution for the millions of people who have to reduce their caffeine intake due to certain health conditions such as heart disease, acid reflux and diabetes. In addition, caffeine sensitivity is also on the rise with more than 20% of the population suffering from symptoms aggravated by drinking coffee such as jitters/anxiety, stress, energy crash and dehydration.

Good to the last herb, Teeccino Maya Organic Herbal Coffees offer rich, robust coffee flavor and brew exactly like coffee. The enchanting flavor of the Maya line comes from an exotic, unique ingredient new to the U.S. called the ramon nut.

An ingredient discovered in the Maya Biosphere Reserve by Teeccino founder and master herbal blender, Caroline MacDougall, the ramon nut has intense flavor notes that mimic coffee and will perfectly please the most coveted coffee connoisseur.

Ramon nuts are also a powerhouse of nutrition as they are high in protein, contain all the essential amino acids, detoxify the liver and are rich in nutrients including calcium, iron, and vitamins B and C. All the minerals and nutrients allow for a steady, sustained rise in energy leaving you clear, fresh and focused without the crash.

If you can't imagine letting go of that craving for joe, Teeccino will definitely change your mind.

Teeccino's Maya Herbal Coffee includes: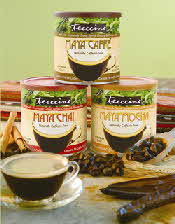 Maya Caffé – rich roasted body with dark, intense coffee flavor
Maya Chai – a stimulating spike of spicy top notes and the creaminess of Mexican vanilla accents rich, roasted, full-bodied flavor
Maya Mocha – overtones of delicious chocolate layered over the intensity of a rich, dark body with a piquant spike of chiles
The Maya Herbal Coffee line shares the spotlight with the Teeccino Classic Line featuring seven other herbal coffee flavors including Vanilla Nut, Hazelnut and Chocolate Mint. Please visit www.teeccino.com for more information on Teeccino, the effects of coffee and caffeine on health and to check out Caroline's healthy tips newsletter. Teeccino is available online and in Whole Foods Market, Wild Oats and health food stores nationwide.