ENERGY DRINKS
Dear EarthTalk: There are so many energy drinks on the market, but they all seem very high in sugar, coloring and preservatives. Are there any natural versions that offer a healthier kick-start?
March 2008 - -- John Hwang, Cambridge, MA
Energy drinks constitute one of the fastest growing sectors of the soft drink market across the U.S. and around the world, with some 500 new varieties introduced in recent years. But it's true that most are far from healthy. Besides containing excessive amounts of sugar and caffeine, which alone can be dangerous to those with diabetes or heart conditions, many also feature a battery of supposedly beneficial herbal supplements (taurine, guarana and ginseng) that are not proven to increase energy and may actually sap energy, being detrimental to bodies overloaded with new and unfamiliar stimuli.

"Most of the energy drinks contain high-tech-sounding ingredients that are not controlled substances, of no value, and potentially harmful" in large amounts, says sports nutritionist Cynthia Sass. "The amount of the stimulants is not always listed on the label, and even when the information is listed, it is hard for consumers to interpret because we are not familiar with these ingredients."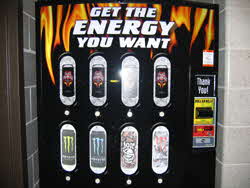 Sass recommends good old fashioned water as the best alternative to energy drinks. Re-hydrating is a great way to stay alert and to move other nutrients through the body. Other tried and true ways to increase energy include maintaining a healthy diet, regular physical activity and, of course, a good night's sleep.

But what about those times when you really need a boost? Yerba mate tea, which is derived from yerba mate plants that naturally contain caffeine as well as other natural stimulants, is a popular choice. Perhaps part of the reason some people swear by it is that its brewed leaves contain theobromine—also found in cocoa—an alkaloid known to help elevate the mood. Boosters of the drink say it also helps strengthen the immune system, relieve allergies and aid in weight loss.

Not a straight tea drinker? Brewed yerba mate, which has an earthy flavor that some call an acquired taste, is sold commercially not just as tea but also blended in lattes, coffees and energy drinks. Guayaki (available at Safeway, Wegmans, 7-Eleven and elsewhere) is one of a handful of companies paving the way for yerba mate in the U.S. The company sells flavored versions with a hint of cane juice to sweeten it up for otherwise sugar-addicted American consumers.

Another take on healthy energy drinks comes from a handful of companies selling products with vitamins and nutrients instead of caffeine to give drinkers a kick. Zipfizz is a powder that can be mixed in with water and contains a combination of vitamins and minerals that provide the body with electrolytes, antioxidants and vitamin B-12, among other natural, immune-strengthening nutrients. Eniva Vibe, also packed with vitamins and minerals, is another popular new entry into the healthy energy drink market.

As with anything you consume, mileage may vary, so to speak, so experts advise going slow at first to make sure it agrees with you. And if all else fails, remember you can always just go take a nap.

CONTACTS: Cynthia Sass, www.cynthiasass.com; Guayaki, www.guayaki.com; Eniva Vibe, www.enivamembers.com/vibe_index.aspx; Zipfizz, www.zipfizz.com.

GOT AN ENVIRONMENTAL QUESTION? Send it to: EarthTalk, c/o E/The Environmental Magazine, P.O. Box 5098, Westport, CT 06881; submit it at: http://www.emagazine.com/, or e-mail: [email protected]. Read past columns at: www.emagazine.com/earthtalk/archives.php