Hemp Bliss
™

Organic Hempmilk
MooooVE OVER DAIRY Milk
Compare New Hemp Bliss Organic Hempmilk to other Dairy Milk Alternatives: Soy, Almond & Rice
The herd of non-dairy milks has gained a strong 'bull' of a competitor – Hemp Bliss organic hempmilk from Manitoba Harvest (www.manitobaharvest.com). Consumer demand for dairy milk alternatives has been growing for many years due to vegetarian preferences and concerns about dietary sensitivities to dairy, growth hormones in dairy milks, and animal rights and other environmental issues associated with dairy production. Some people simply don't enjoy the flavor of dairy milk and find that they can gain nutrition by tastier means.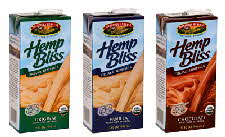 Hemp foods are one of the hottest trends in the health food industry. Hemp Bliss is the first Organic hempmilk, and this hemp innovation is creating a buzz because this nutritious beverage is the most user-friendly way for consumers to try and enjoy this ancient "superfood." Hemp Bliss stands out from the herd of dairy milk alternatives including soy, rice and almond because it has a strong nutrition profile, a pleasant flavor and texture and it does not raise concerns regarding food sensitivities. Many people are sensitive to nuts, including almonds. Others have trouble with sensitivity to soy or are concerned about soy agriculture. Rice milk is like hemp in that it is not known as an allergy irritant; however, it doesn't offer a strong nutrition profile like hemp and typically rice milks contain an abundance of sugar and sweeteners.

Overall, Hemp Bliss provides a superior nutrition profile than the other non-dairy alternatives. Most noteworthy are the 1,200 mg of omega-3 essential fatty acids and 5 grams of protein in each serving. Overall, Hemp Bliss offers the richest source of Omega 3, 6 and 9 essential fats. A chart comparing Hemp Bliss to the leading national brand in each of the dairy milk alternative categories is presented below.

GLAD about GLA
Hemp Bliss provides 250 mgs of Gamma Linolenic Acid (GLA) per serving – a rare nutrient that is not in any of the other alternatives. "GLA is a shortcut in the body's production of prostaglandin, a critical substance that influences virtually every major function and system in the body at the cellular level," says Matthew Kadey, a Registered Dietitian in Ontario. "It performs functions such as regulating blood pressure, reducing inflammation, boosting immunity, improving blood vessel tone and preventing blood platelets from sticking," adds Kadey. Without the benefit of GLA in the diet, the body must convert linoleic acid (LA), a "regular" Omega-6 EFA in many common foods, into GLA before it is further processed into prostaglandin. "Sluggish bodies that have metabolisms compromised by stress, toxicity, aging and poor diets struggle to convert LA into GLA," notes Kadey.

Offered in Chocolate, Vanilla and Original varieties, Hemp Bliss is made from only the highest quality organic hemp seeds and pure organic ingredients. It does not contain synthetic flavors, vitamins, minerals, additives or preservatives and is Lactose-Free, Soy-Free, Nut-Free, Rice-Free and Gluten-Free. Hemp Bliss has a rich and creamy mouth-feel and is cold-filtered for a smooth taste. Each Hemp Bliss variety is offered in a 32 FL oz container for a suggested retail price of $4.99.

A Socially Responsible Dairy Milk Alternative
Manitoba Harvest was honored recently with the 2006 Socially Responsible Business Award for their work pioneering sustainable hemp agriculture in the 1990s and for spreading organic farming in Manitoba ever since. In the 1990's activist and co-founder Martin Moravcik worked with the Manitoba and Canadian governments to re-legalize hemp agriculture. The goal of reintroducing hemp farming came to fruition in 1998 when the Canadian government began issuing hemp farming licenses and he partnered with Mike Fata and Alex Chwaiewsky to form Manitoba Harvest Hemp Foods & Oils. The company is now the largest hemp foods-only processor in North America.

(May 24, 2007) –
Manitoba Harvest contracts more than 6,000 acres of hemp seed production in Manitoba with more than 20 farmers that are shareholders in the company. They process the raw seed into organic hemp seed oil, shelled hemp seed, hemp seed butter, hemp protein powder and new Hemp Bliss – Organic hempmilk. Manitoba Harvest owns and operates a kosher and USDA certified organic facility and their products are distributed to thousands of stores in the U.S., Canada, Europe and Japan. Manitoba Harvest products are also sold as bulk ingredients to food and cosmetic manufacturers. Since Manitoba Harvest is an integrated producer of hemp food products they control production from "seed to shelf," and are therefore able to ensure freshness and quality. For more information, please visit www.manitobaharvest.com or call 1-800-665-HEMP (4367).