Early morning treat for shoppers nationwide with in-store sampling
Richard Simmons Greets Black Friday Shoppers in Herald Square, New York
LAKEVILLE-MIDDLEBORO, Mass.
(November 21, 2008) –
The day after Thanksgiving is synonymous with two traditions: massive amounts of leftovers and great holiday shopping. Already a staple of the Thanksgiving meal, Ocean Spray will now take part in the latter by launching a campaign to energize Americans during the busiest retail day of the year – Black Friday. To jump-start early-morning shoppers for a long day of holiday shopping, the company will offer more than a million free samples of Ocean Spray products in 200 Macy's stores nationwide, while supplies last. Cranergy™ Energy Juice Drink will provide a natural way to energize and Craisins® 100-Calorie Packs will offer the sweetest way to eat a cranberry.

As part of the campaign, Richard Simmons will begin the festivities by greeting eager shoppers waiting outside in line at the world's largest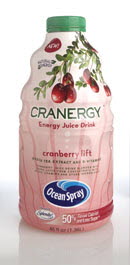 store – Macy's Herald Square in New York City – before doors open the morning of Black Friday, November 28, 2008 at 5:00 a.m. The fitness guru will help pump-up these first shoppers of the holiday season and lead them in energizing aerobics routines.

"The holidays can be a stressful time, so we're doing our part to help shoppers get through this especially intense day of the holiday season," said Ken Romanzi, chief operating officer of Ocean Spray. "Both Cranergy and Craisins make a healthy snack to keep you going through a day of shopping or anytime."

"With early openings and big crowds, Black Friday can be a tiring day," said Martine Reardon, executive vice president of marketing for Macy's Corporate Marketing. "This Ocean Spray promotion is a way for us to help our shoppers keep their energy and spirits up as we get into the full swing of the holiday shopping season."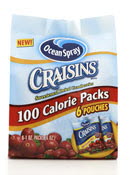 Ocean Spray's Cranergy is made with the real fruit juice and green tea extract, which is a natural source of caffeine; five B-vitamins, which support healthy energy production; and vitamin C, which can help boost immunity. Cranberries and green tea both contain antioxidants that help the body fight free radicals.

Ocean Spray's Craisins 100-Calorie Packs offer a low-calorie, satisfying treat in a great take-along package – a perfect snack for on-the-go shopping. Craisins are made from real fruit and are a good source of fiber. They're fat-free, cholesterol-free and have no artificial flavors, preservatives or trans-fat.
About Ocean Spray
Ocean Spray is an agricultural cooperative owned by more than 600 cranberry growers in Massachusetts, Wisconsin, New Jersey, Oregon, Washington, British Columbia, and other parts of Canada as well as more than 50 Florida grapefruit growers. Ocean Spray was formed over 75 years ago by three cranberry growers from Massachusetts and New Jersey. Florida grapefruit growers joined the Cooperative in 1976. Ocean Spray is North America's leading producer of canned and bottled juices and juice drinks, and has been the best-selling brand name in the canned and bottled juice category since 1981. Ocean Spray posted fiscal 2007 sales of $1.7 billion.
About Macy's
Macy's, the largest retail brand of Macy's, Inc., delivers fashion and affordable luxury to customers at more than 800 locations in 45 states, the District of Columbia, Puerto Rico and Guam. Offering distinctive assortments including exclusive fashion and home brands, Macy's stores are operated by four regionally based retail divisions – Macy's East, Macy's Florida, Macy's Central, and Macy's West – and an online store at macys.com.