Shake up Big Game Grilling with all-new
"Seafood for the Grill" from SeaPak

St. Simons Island, Ga., October 9, 2008-
Just in time for fall get-togethers and football tailgating parties, SeaPak Shrimp Company announces a new winning team: Seafood for the Grill. In SeaPak's great-tasting, healthy lineup are delicious Salmon Burgers, perfectly seasoned Ahi Tuna Steaks, and savory Smoky Barbecue Salmon Fillets.
(Recipes below)

All three seafood items are made with all-natural, quality ingredients that contain no additives or preservatives. As an excellent source of lean protein and essential Omega-3 fatty acids, SeaPak's Seafood for the Grill combines great taste with the all-natural benefits of seafood. They are good for you, delicious, and easy to prepare. It's never been simpler to score a touchdown with game-day grilling.

Cool weather and football make fall the perfect time to host grand grilling get-togethers. With the popularity of at-home grilling skyrocketing – up nearly 21% since 1998 – SeaPak's new products provide a tasty, healthy alternative to the traditional menu of hotdogs and hamburgers.

In honor of tailgaters everywhere, SeaPak offers two delicious recipes for Game-day; for more great recipes visit www.seapak.com.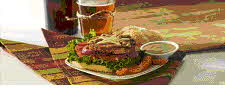 CHIPOTLE RANCH SALMON BURGERS
Prep Time: 10 minutes
Cook Time: 10 minutes
Serves: 4 people

Ingredients
• 1 package (12.8 oz) SeaPak® Salmon Burgers
• 2 tbsp. chipotle pepper sauce
• 1/4 cups ranch dressing
• 4 slices red onion
• 4 ripe vine tomatoes
• 4 leaves green leaf lettuce
• 4 slices pepperjack cheese (optional)
• 4 hamburger buns

Directions
PREHEAT grill to medium-high heat.

COMBINE chipotle pepper sauce and ranch dressing, set aside.

GRILL salmon burgers according to package directions. Remove from grill.

PLATE by placing salmon burger on bun and topping with lettuce, onion, tomato and cheese. Spread chipotle-ranch sauce on inside, top half of hamburger bun. Serve immediately. (Try toasting burger buns on the grill just before burgers are finished cooking.)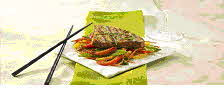 GRILLED AHI TUNA STEAKS WITH FOIL PACKET VEGGIES
Prep Time: 10 minutes
Cook Time: 10-15 minutes
Serves: 2

Ingredients
• 1 package (9 oz) SeaPak® Seasoned Ahi Tuna Steaks
• 1/4 bell pepper, sliced
• 1/4 of a medium onion, sliced
• 1 medium carrot, julienned
• 1 garlic clove, chopped
• 1/4 cup sugar snap peas (or snow peas)
• 1 tbsp. olive oil
• 1 tsp. fresh basil, chopped
• 1/4 tsp. salt
• 1/4 tsp. ground black pepper

Directions
PREHEAT grill to medium-high heat.

CUT two sheets of aluminum foil to 12 inches in length and arrange cross-wise on a flat surface. Place veggies on foil, drizzle with oil and sprinkle with seasonings. Bring ends of top foil layer together and fold downward 3 to 4 times. Repeat with bottom layer of foil until tightly sealed.

PLACE veggie packets on grill and grill for 10 to 15 minutes, do not turn. Add thawed tuna steaks to grill halfway through veggie cook time and grill according to package directions. Remove from grill.

PLATE tuna and distribute veggies.