Smart Super Bowl Snacks from California Walnuts
(Recipes below)
Smart Snacking during the Super Bowl shouldn't mean eating foods lacking in flavor and substance. Smart Snacking means eating great-tasting, nutritious foods that will satisfy your super appetite on game day. The California Walnut Board created the Smart Menu™ program to help America makeover the dishes they love to increase the nutritional benefits while retaining all the taste – snacks included.

The first step to creating a smart snack is selecting the ingredients and walnuts should be at the top of the list. Unique among nuts, walnuts are the only nut that provide a significant amount of alpha linolenic acid (ALA) – the plant-based omega-3 fatty acid. One handful of walnuts contains 2.6g of ALA*. Use walnuts in delicious Super Bowl snack recipes this year and they won't just be super, they'll be smart.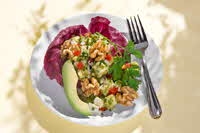 GUACAMOLE CHICKEN SALAD
Take a football snacking classic, guacamole, and add chicken to create this unique spin. Replacing the mayonnaise in regular walnut chicken salad with avocado reduces the saturated fat and spices up the flavor. For a lower fat snack, leave out the tortilla chips and serve on a leaf of butter lettuce.
Serves 8

Ingredients
• 2 avocados, halved, pitted and peeled
• 3 tablespoons lime juice
• 1 clove of garlic, minced
• 1/2 teaspoon salt
• 1/4 teaspoon ground pepper
• 4 cups diced, cooked chicken breast meat*
• 1 cup toasted, chopped California walnuts
• 1 cup finely chopped onion
• 3/4 cup finely chopped celery (about 3 ribs)
• 3 plum tomatoes, halved, seeded and chopped
• 6 (or more, depending on size) whole leaves of butter lettuce or radicchio

Directions
Put the avocado in a large bowl and mash it with a fork until almost smooth. Stir in the lime juice, garlic, salt, pepper. Add the chicken, walnuts, onion, celery and tomatoes, and stir to coat with the avocado. To serve, place a leaf or two of lettuce on each plate, and mound the salad in the center.

*Note: Use home-cooked roasted or poached chicken, or deli-roasted chicken.

Nutrition information per serving: 300 calories, 19g total fat, 2.5g saturated fat, 60mg cholesterol, 210mg sodium, 10g total carbohydrate, 5g fiber, 25g protein
*Source for original: Joy of Cooking: 75th Anniversary edition copyright 2006


TURMERIC SPICED WALNUTS
These spiced walnuts pack a zesty kick that's sure to score a touchdown with your guests. Throughout time, turmeric has been used in cooking, as folklore suggests it supports overall well-being. So, by combining nutritious* walnuts with this exotic spice, revelers will enjoy a unique, heart-healthy** party snack. And for the extra point, reach for these spiced walnuts instead of a handful of potato chips with dip and you'll reduce your saturated fat intake by 4.2g.
Yield: 1 cup, 4 servings

Ingredients
• 1 cup of California walnut halves
• 1 tablespoon walnut oil
• 1/2 tablespoon kosher salt or sea salt
• 2 tablespoons of sugar
• 1/2 teaspoon of ground cumin
• 1/4 teaspoon cayenne pepper
• 1/2 teaspoon turmeric

Directions
Remove the natural tannin of walnuts by plunging them into a pot of boiling water, and turning off the heat. Let the walnuts stand in the water for 2 minutes, drain the water and pat the walnuts dry with a paper towel. Spread the walnuts on a baking sheet. Roast the walnuts in a 350°F degree oven for 8 to 10 minutes until fragrant.

Heat the walnut oil in a skillet over medium heat, add the roasted walnuts and toss for 1 minute. Add the kosher salt, sugar, cumin, cayenne pepper, and turmeric and toss to coat the walnuts. Let the walnuts cool on parchment paper or paper towels.

Nutrition information per serving: 220 calories, 19.8 g fat, 1.8 g saturated fat, 3.9 g protein, 10g carbohydrates, 1.9 g fiber, 0 mg cholesterol, 886 mg sodium.

POPCORN WALNUT DELIGHT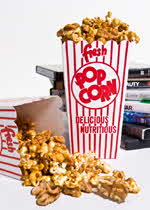 This American favorite is easy to make at home using walnuts and a light caramel.
This classic snack is sure to please kids of all ages. What's the prize? Our version contains half the sugar per serving than the stadium-bought alternative and the walnuts provide nearly 10 times the amount of ALA omega-3s than of any other nut***. Be sure you make enough because this deliciously smart and fun treat will go quickly when served to hungry football fanatics.
Makes 4 cups
About 8 servings

Ingredients
• 1 tablespoon unsalted butter
• 3 tablespoons canola oil
• 1/4 cup light brown sugar
• 1/2 teaspoon white balsamic vinegar or cider vinegar
• Pinch baking soda
• 1/2 teaspoon coarse sea salt
• 4 cups popped corn
• 3/4 cup walnut haves or pieces or a mixture

Directions
Preheat an oven to 250 degrees F.

Combine the butter, oil, sugar, vinegar, and baking soda in a saucepan over medium heat. Cook, stirring just until the butter has melted, approximately 3 minutes. If it starts to bubble, remove from heat to complete stirring.

Line a baking sheet with aluminum foil. Put the popped corn and the walnuts on and mix them. Drizzle the butter-sugar sauce all over and toss and turn well.

Place in the oven and bake for 15 minutes. Remove and using a wooden spoon or spatula, turn several times. Return to the oven, and repeat the turning process two more times at 15 minute intervals. After one hour, remove the corn and turn several times. Let stand at room temperature to cool. When cool, store in plastic bags or containers and store in a cool dry place. It will stay fresh for up to 10 days.

Nutritional Information Per Serving: Calories 150, Total Fat 13g, Saturated Fat 2g, Cholesterol 5mg, Sodium 230mg, Total Carbohydrate 9g, Fiber 1g, Protein 2g
*Source for original: Joy of Cooking: 75th Anniversary edition copyright 2006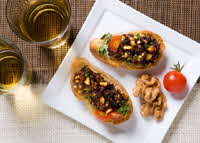 WALNUT, BLACK OLIVE, AND DRIED TOMATO SPREAD
This spread also makes a great dip for raw vegetables. The amount of oil you will need to puree the mixture to a spreadable consistency will depend upon how much oil is in the olives and the tomatoes.
Spice up your vegetable platter with Mediterranean flavor while taking care of your heart. Health professionals suggest a Mediterranean diet supplemented by olive oil, fruit, vegetables and nuts, especially walnuts, can be smart for your cardiovascular system****. Serve this savory spread with fresh veggies, whole wheat crackers, or pita bread.
Makes about 3 cups
2 Tablespoon/Serving, 24 Servings

Ingredients
• 1 cup oil cured black olives, pitted
• 1 cup walnuts, coarsely chopped
• 3/4 cup jarred sun dried tomatoes, in oil, coarsely chopped
• 2 teaspoons tomato oil from jar
• 1 teaspoon fresh thyme leaves
• 1/4 to 1/2 cup extra-virgin olive oil

Directions
Coarsely chop the olives and place them in a blender or food processor with the walnuts, dried tomato, tomato oil and fresh thyme. Blend or process until the mixture is well-mixed. Slowly add olive oil, pureeing or processing until the mixture reaches the desired consistency for spreading.
Nutritional Information Per Serving: Calories 80, Total Fat 8g, Saturated Fat 1g, Cholesterol 0mg, Sodium 160mg, Total Carbohydrate 2g, Fiber <1g, Protein 1g
*Source for original: Joy of Cooking: 75th Anniversary edition copyright 2006

* - One ounce of walnuts provides: 18g of total fat: 2.5g of monounsaturated fat, 13.4g of polyunsaturated fat, including 2.6 grams of alpha linolenic acid - the plant based omega-3; as well as 2 grams of fiber, 4 grams of protein and various other vitamins and minerals. http://www.walnuts.org/pdfs/Nutrients_detailed.pdf

** - "Supportive but not conclusive research shows that eating 1.5 ounces of walnuts per day, as part of a low saturated fat and low cholesterol diet, and not resulting in increased caloric intake may reduce the risk of coronary heart disease." – the U.S. Food and Drug Administration approved a qualified health claim for walnuts – March 2004.

*** - ALA omega-3 content for tree nuts & peanuts – Walnuts: 2.6g, pecans: 0.28g, pistachios: 0.07g, macadamia nuts: 0.06g, pine nuts: 0.05g, hazel nuts: 0.03g, cashews: 0.02g, Brazil nuts: 0.01g, peanuts: 0g, almonds: 0g.

**** - Arch Intern Med. 2007 Jun 11; 167(11): 1195-203.