College Cooking:

Rice Cookers
The Surprising New Trend in Healthy and Productive College Students
The newest generation of college students will soon be packing their bags and heading off to school. For many of these millions of teenagers it will be the first time in their lives that they will be missing one vital element: mom's healthy home cooking!

Teens depend so strongly on their families to educate them as to what constitutes a healthy meal that when Mom and Dad are absent, they slip into a fast food, instant gratification lifestyle. College can be a pressure cooker of stress and new students who lack proper nutrition risk having a disadvantage at a time in their life vital to their success. How can we ensure that our future generation will turn down the burritos, pizza and wings in favor of healthy alternatives that they have created by themselves, for themselves?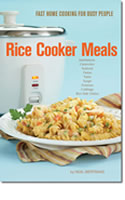 Neal Bertrand, author of the cookbook "Rice Cooker Meals: Fast Home Cooking For Busy People" reveals that a surprising new trend in food preparation is the use of the common rice cooker, a device that many have overlooked in these "fast food times". Rice cookers can easily produce home-style meals that lock in all of the healthy elements that a busy student requires to make the Dean's List. More and more students are turning on to the fact that they can become a "Top Chef" without challenging their short attention spans.
Here Neal shares the top 5 reasons why rice cookers produce quick, affordable meals and also support healthy, nourished minds:
1) A Home-Cooked Meal Combats the Chance a College Freshman Will Put On Weight. When teenagers leave the nest for the first time, nutrition is the last thing on their mind. In the mad dash to find their feet at school, they throw caution to the wind and pack on the pounds consuming greasy and chemical enriched fast food. A rice cooker fights the fat by locking in all of the nutrients and vitamins that a student needs to fuel them through that Geology all-nighter. Got leftovers? Trade in your cold greasy pizza with extra cheese for a well balanced hot lunch cooked in minutes!

2) The Dining Hall, Unlike Mom's Kitchen, Isn't Always Open. Depending on their schedule, college students always seem to be pressed for time…especially when it comes to eating. If the dining hall is closed, the bevy of fast food chains beckon with flashing neon lights. A rice cooker in their dorm room makes them in charge of when and what they eat. Even after a hell-week, students can whip up a meal in less than 30 minutes with preparation taking less than 5 minutes. Toss it in and turn it on!

3) Fast Food is Expensive. If you are not interested in taking out a second mortgage to cover all of the extra expenses that your freshman will beg you to cover, a rice cooker is an affordable solution. For example, one microwave meal or super value meal at a fast food chain can cost over $5. For that same amount of cash your ace student can pick up all the ingredients for Chicken and Pasta (page 31 in Bertrand's cook book) and have enough food for two dinners, a couple of lunches and maybe even a late-night snack.

4) I Need a Stove! The tiny average dorm room (only 12' x 9') rarely has enough room for a roommate, let alone a kitchen! While a refrigerator and computer are vital elements of the perfect dorm room, it is important to also have a space saving appliance to cook with. Smaller than a microwave, the rice cooker will nestle comfortably within any cluttered dorm room. And you'll be the envy of the entire dorm wing when students smell the mouth-watering aroma of that Taco Soup (page 63 in Bertrand's cook book) drifting down the hall.

5) Care Packages Are Made With Love, Not Trans Fat. New freshmen revel in their freedom to enjoy all of the foods that you didn't keep in your well-stocked cupboards. So instead of sending them the chips, cookies and snacks that they are most likely already stocking under their beds, send them healthy alternatives that they can pop into their rice cooker and instantly turn into a healthy and tasty treat. Send care packages that help your child stay healthy rather than shipping them food that breaks concentration and turns your potential "Straight-A Student" into an unproductive slug.

College is the beginning of a new and exciting adventure for your teenager. Ensure that they make this transition a success by continuing to instill in them the importance of healthy eating. The growing popularity of rice cookers amongst college students is a positive trend that could help our next generation of leaders stay on a path that will keep them healthy, wealthy and, hopefully, wise.
About Neal Bertrand
Neal Bertrand was born and reared in Opelousas, Louisiana, in the heart of Cajun Country. He has more than a decade of experience in the publishing business. His two previous publications are Down-Home Cajun Cooking Favorites and the bi-lingual (English & French) Cajun Country Fun Coloring and Activity Book. Bertrand readily admits he's not a chef and has no culinary training, but has been cooking rice in a rice cooker since the 1970's. All of his books, art prints, rice cookers and other products can be seen and ordered from his website, www.RiceCookerMeals.com