See also: The Modern Potato; The Idaho Potato;

Growth of the Idaho Potato Industry
HISTORY AND ORIGIN OF POTATOES
Potatoes have been cultivated for food for more than 2,000 years.
In South America
Peru's Inca Indians, it is believed, had cultivated potatoes by 3000 B.C. The Incas had many uses for potatoes, which ranged in size from a small nut to an apple and in color from red and gold to blue and black. They placed raw potato slices on broken bones, carried them to prevent rheumatism and ate them with other foods to prevent indigestion. The Incas also used potatoes to measure time by correlating units of time with how long it took potatoes to grow.

The Spanish conquistadores discovered the potato in 1537 and took potatoes with them on their return trip to Europe.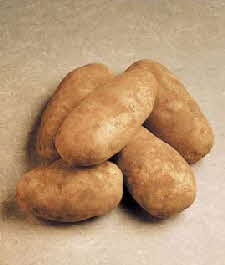 In Europe
Potatoes were thought to be poisonous or evil, were believed to cause leprosy and syphilis and were even regarded as a dangerous aphrodisiac.

Several prominent Europeans helped popularize the potato.
• Germany's King Frederick William ordered peasants to plant and eat potatoes - or have their noses sliced off!
• A Frenchman named Antoine Parmentier was an apprentice pharmacist-turned-soldier during the Seven Years War between France and Germany during the mid- 1700s. As a German prisoner of war, he was forced to subsist on potatoes. In later years, he reportedly introduced potato soup and other potato dishes to King Louis XIV, Marie Antoinette and Benjamin Franklin as well as the general population.
• England's Sir Walter Raleigh was given land in Ireland by Queen Elizabeth I to grow potatoes and tobacco. According to one story, Raleigh presented potatoes to the Queen but a bewildered cook served the leaves and threw away the tubers.
In North America
The first potatoes arrived in North America in 1621.

Captain Nathanial Butler, then governor of Bermuda, sent two large cedar chests containing potatoes and other vegetables to Francis Wyatt, governor of Virginia at Jamestown.

The first permanent North American potato patches were established in New England around 1719, most likely near Londonderry (now Derry), New Hampshire, by Scotch-Irish immigrants.
See part 2 - The Idaho Potato!
Visit the official website of the Idaho Potato: www.idahopotato.com