HOLIDAY VENISON
SERVE THE SEASON'S BOUNTY
Coleman's Grilled Coffee Glaze Venison Steak with Butternut Squash and Pan Gravy
Renowned TV-Chef Jim Coleman And Chef'sChoice Offer Tips on Dishing Up The Perfect Venison…From Carving To Table
(Recipes below)
Holidays are meant to be celebrated with friends, family and good food. This year, in addition to the holiday ham or turkey, impress your guests with "Flavors of America" TV Chef and Cookbook Author Jim Coleman's annual "Holiday Venison," a hearty, healthy and elegant fare fit for any table. It's the perfect holiday harvest to share at your next get together and is sure to delight the wild game enthusiasts in your clan as well as other discerning palates. Chef'sChoice has teamed up with Coleman to offer venison carving tips that will make preparing this special treat a breeze.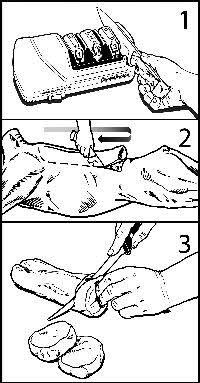 Chef'sChoice Carving Tips:
To remove the fat and serve up delicious cuts of meat, you'll need to know how to properly carve the venison. Following are three important steps:

STEP 1: Be sure to use a good, sharp knife. Sharp knives are not only safer, they will help you smoothly cut even slices without shredding the meat. Fortunately, you don't have to be an expert to put a razor sharp edge on your knife. A sharpener such as Chef'sChoice® Professional Sharpening Station™ 130 can make sharpening easy. The first stage, using 100% diamond abrasives sharpens the edge; the second stage uses a super-hardened miniature steel and the third stage features a revolutionary flexible stropping disk to polish the edge to hair-splitting sharpness. This stage is also used for sharpening serrated knives. For help finding a sharpener that's right for you, call (800) 342-3255.

STEP 2: Using a sharp knife, carefully remove the back loin from the back strap, cutting just above the ribs in a rectangular shape. (If you don't have your own supply of fresh venison, contact your local butcher to obtain this special cut.)

STEP 3: Chill loin until it is firm, prior to filleting. Cut into fillets.
RECIPE: COLEMAN'S GRILLED COFFEE GLAZE VENISON STEAK WITH BUTTERNUT SQUASH AND PAN GRAVY:
Coleman's favorite piece of venison and his most recommended for a holiday feast is the back strap. "The back strap is a wonderful cut of meat. Be sure to chill it to firm prior to cutting and I strongly suggest using a very sharp knife to remove the back strap and to cut the fillets," says Coleman. "For optimal taste, it is also important to remove the fat and silver from the meat and to make sure you don't over cook it." Once you've obtained your perfect fillets, you're ready to prepare Coleman's delicious venison dish that is sure to become a holiday tradition and perennial favorite!
Serves 4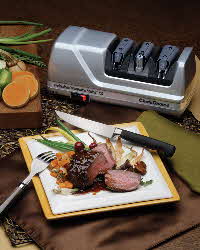 INGREDIENTS
COFFEE GLAZE
• 2 cups tomato puree
• 2 tbs. instant coffee
• 1/2 cup brown sugar
• 2 tbs. molasses
• 1 tbs. vinegar
• 1/4 cup Worcestershire Sauce
• 2 tbs. chopped garlic
• 1/2 onion, chopped fine
• 3 tbs. Kahlua


• 2 6-8 oz. venison steaks
• 2 small butternut squash
• 2 med. sweet potatoes
• 2 tbs. chopped scallions
• 1/4 cup olive oil
• 2 tbs. butter

DIRECTIONS
To Make Coffee Glaze:
Mix all ingredients together and bring to boil. (Keep whisking on medium heat to prevent glaze from burning before boiling). Remove pan from heat and cool down. Once cooled, put mixture in food processor and puree.

Grill venison steak on high heat (charcoal or gas grill) on both sides of steak to sear and lock in juices. Then cover steak with coffee glaze and let marinate for 15 minutes. Pre-heat oven to 380F degrees and cook for 5 to 10 minutes until desired doneness. Cut butternut squash and potatoes into small dices and place in a large non-stick sauce pan and sauté with olive oil on high heat until all are lightly brown. Then turn down heat to medium heat and add scallions and butter. Cook until tender.
To Assemble:
Scoop squash and potatoes on center of each plate and set venison steak over them. Top with remaining glaze and garnish with fresh seasonal herbs. Now you're ready to enjoy the season's bounty!

The Philadelphia-based Chef Jim Coleman hosts "A Chef's Table", a live weekly radio show broadcast on WHYY 91 FM and throughout the country over National Public Radio. Coleman's "Flavors of America" show airs in ­­­50 million homes across the country. He has published two cookbooks: "Flavors of America" and "The Rittenhouse Cookbook."

Headquartered in Avondale, PA, Edgecraft Corporation markets in 50 countries around the world under the Chef's Choice® brand and manufactures high-quality electric and manual knife sharpeners, cutlery, food slicers, waffle makers and mixes and hot beverage products as well as the gourmet egg cooker and an electric food grinder.